Rambox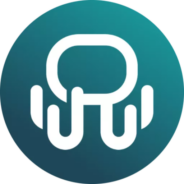 Windows 7, 8, 10, 11

Version:

2.0.7

Size:

58.7MB
It is common to run multiple applications when using a computer, but it can be quite overwhelming for users who need to run a large number of programs on daily basis. While using multiple monitors can help, not everyone can afford such a solution.
Rambox can help you with the issue by providing a dashboard where all your favorite programs are organized in a single place. The core functionalities are free, but upgrading the license will let you use and sync Rambox across multiple devices, in addition to a bunch of extra functionalities.
Features and Highlights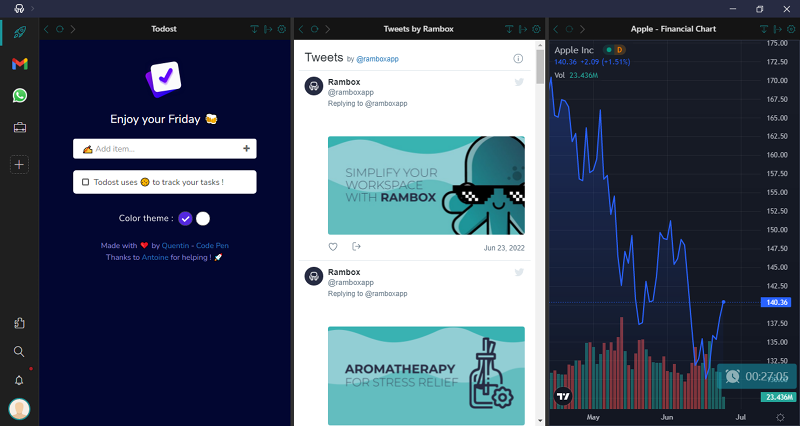 Depending on how many applications you work with, finding one between the running applications can be a pain sometimes, especially when two or three or more of them have similar icons that make you occasionally click the wrong one. While Rambox allow you to group applications into workspaces, it could probably be a challenge too to find applications when you have many workspaces.
Rambox, fortunately, provides a quick search feature to anticipate this possibility.
Whenever you need a certain application but you forget where you have put it or simply want to find it as quickly as possible, you can type the name of the application in the search box and let Rambox does the heavy work for you.
To avoid relying too much on the quick search feature, you can customize the names and icons of each workspace so that they can be distinguished from each other just by a quick glance.
A workspace is a collection of applications, and Rambox supports more than 700 applications like email clients, social networks, password managers, calendars, design tools, code editors, Google apps, messengers, cloud storages, site analytics, and note taking tools.
After you create a workspace, you can browse the library of applications to select the ones that you need to run in that workspace. You can add applications as many as possible in each workspace.
In case you need a certain application but cannot find it in the library, which is very possible because there are just too many applications around, you can add a custom application.
As said before, you can create multiple workspaces for as many as you need. For example, you can create a workspace containing only the tools that you usually use for writing and another one that you use for research.
 Anytime you want to stay focused on a certain task, you can enable the Focus mode which silences the noise like sounds and notifications, and set the work hours so that the mode kicks in automatically at the specified time.
Rambox Free Download for Windows
With Rambox, you can access different sets of applications more quickly and easily to complete different tasks. Hopping from one set to another one is easy because Rambox lets you personalize each workspace. Switching between applications is similarly easy, thanks to the quick search feature.
Rambox looks convenient for those who have to deal with lots of applications almost every day. Best of all, it is free, at least for the core functionalities which should be sufficient for most people. You can click the link below to download Rambox for Windows:
Editor: Clifford
App Info
App Name Rambox
License Freeware
Publisher Ramiro Saenz
Updated Jun 17, 2023
Version 2.0.7
High-quality software downloads
Anturis.com is your trusted source for software downloads.