Google Earth
Windows 7, 8, 10, 11

Version:

7.3.6.9264

Size:

60MB
Google Earth is a marvelous geomapping software that offers the pleasure of exploring the whole world without leaving your desk. It can run on desktop platform, which includes Windows, and it is available for zero bucks, which is definitely a great news. But, your computer has to be connected to the internet to use it.
It is widely used to search for locations, but it can be used for many other purposes too, like supporting rescue efforts when a disaster strikes like what happened at the Gulf Coast back in 2005, protecting culture and animals, reuniting people with their families, and raising awareness on environmental changes. Even if you want to take a trip to the space, Google Earth can still take the challenge.
Features and Highlights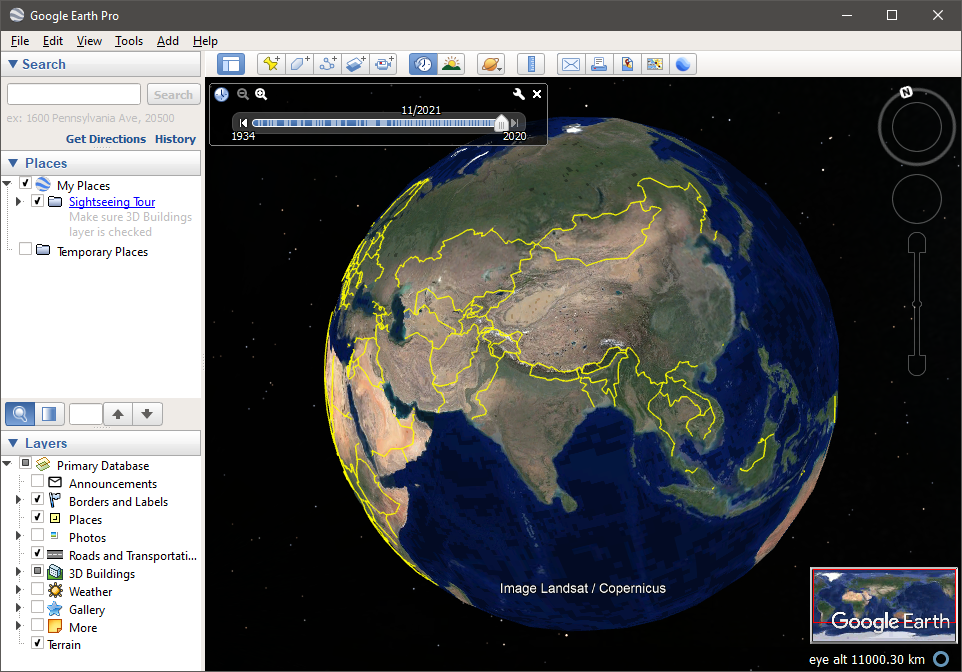 Google Earth has been displaying the earth as a globe since 2008, which you can move in any direction with your mouse in the viewing area. And if you click on the planet icon, which is a part of the toolbar, you will be able to switch the view to the moon, sky, and Mars.
The Sightseeing Tour box is perhaps the second thing you want to try out after you install and launch Google Earth. It lists several popular destinations across the world. Double-clicking on The Eiffel Tower, for instance, will immediately bring you to the location to get a closer look at it. Use your mouse as if it is a virtual hand to view the location from every possible angle.
The other available destinations are Mount Fuji in Tokyo, The London Eye in England, Google Headquarters in California, The Forbidden City in China, The Grand Canyon in USA, and The Titanic in the North Atlantic. While visiting any of these places, you can add more layers and sunlight effect to get a more realistic view.
To search for a specific location, you can enter its name in the search box, but you should be as specific as you can since there are places that have same names. Longitude and latitude coordinates can also be used to find a place in Google Earth.
Every location that you have visited can be marked with a data point called placemark. It is similar to a bookmark in your browsers. By marking a place, you can easily revisit it sometime in the future when you need to.
Google Earth Free Download for Windows
Google Earth is simply a magnificent piece of digital product that you can get for free. It is very useful even at personal level. For example, if you have a plan to move out soon to a new residence, you can check the neighborhood of the location to find the best route to go to work and to find out if it is really a good place to stay.
It can be confusing at first when you use Google Earth, but tutorials are in abundance. Do a search with proper keywords in your favorite search engine and you should be able to start navigating the world after a few minutes of reading. You can click the link below to download Google Earth for Windows:
Editor: Clifford
App Info
App Name Google Earth
License Freeware
Publisher Google
Updated Jun 20, 2023
Version 7.3.6.9264
High-quality software downloads
Anturis.com is your trusted source for software downloads.