eMule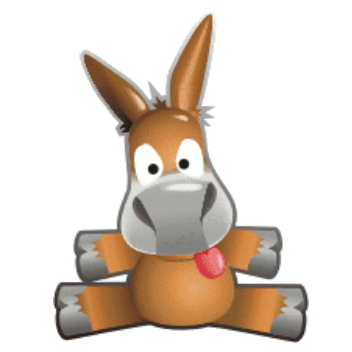 Windows 7, 8, 10, 11

Version:

0.60d

Size:

4.1MB
In May 2002, eMule was released. The open source software was so popular back in the day that some third-parties created malware-infected versions of it. Many years have passed since then but the popularity of eMule as a file sharing software is amazingly still strong. Perhaps the popularity is no longer as strong as in the past but many still use it for file sharing activity.
eMule uses a system credit to reward uploaders and discourage leechers. The more files you upload to another user, the more credits you get from that user. Note that, however, that the credits can only be used on that user alone. The credits will help you someday when you need to download files from that particular user.
Features and Highlights
You can preview a multimedia file in eMule without having to wait for the download to finish on the condition that the first and last parts have been downloaded. Whether or not a file format is supported depends on the media player that you use. If your media player cannot play a file because of a missing codec, then you'll have to search, download, and install the codec first. Or, switch to the recommended VLC media player which is known to be able to play nearly all types of video files.
When you search a file, eMule asks all servers to find the client that has the file you're looking for. Since searches put a heavy burden on the servers, eMule limits the number of search result. So, it is important to be as accurate as possible when choosing a search term.
eMule provides advanced search function to refine your search. It allows users to specify the file type, search method, minimum and maximum file size, in addition to the boolean search function which uses boolean operators. These operators must be typed in capital letters so that eMule can distinguish them from the normal search keywords.
The boolean operators are NOT, OR and AND. The operator AND is used to search for files whose names contain all the words in the keyword, OR is used to search for files whose names contain any of the words in the keyword, and NOT is used to exclude the specified words from the search.
For files that you have already downloaded or cancelled, they will be marked with a green color in the search result. On the other hand, files that are already in the download list are marked with a red color.
eMule Free Download for Windows
It is amazing that eMule still has a strong popularity even to this day, and that's a good news because people have more options in sharing files with each other. If you're looking for certain files but failed to find them anywhere, then perhaps you will be able to find them by using eMule. There is no guarantee that you will find them but it is worth a try if you desperately need those files. You can click the link below to download eMule for Windows:
Editor: Clifford
App Info
App Name eMule
License Freeware
Publisher Merkur
Updated Jun 17, 2023
Version 0.60d
High-quality software downloads
Anturis.com is your trusted source for software downloads.