Revo Uninstaller Pro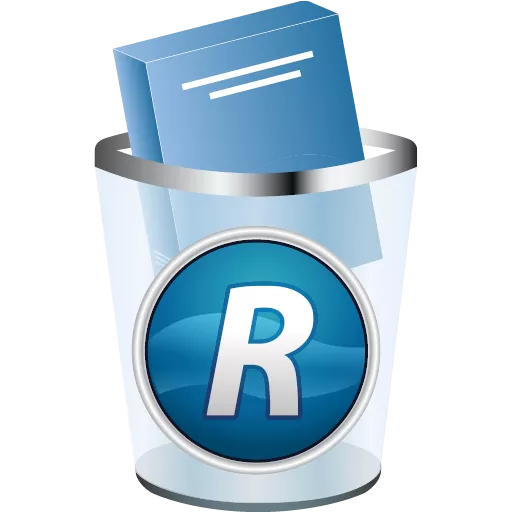 Windows 7, 8, 10, 11

Version:

5.1.7

Size:

16.81MB
License Type: Full Version
Windows has its own dedicated tool to uninstall software, but it is too basic. Revo Uninstaller offers more features which allows users to perform uninstallations as quick and clean as possible.
In addition to the uninstaller module, Revo Uninstaller also comes with a collection of nifty tools to get rid unnecessary files from your computer system.
Features and Highlights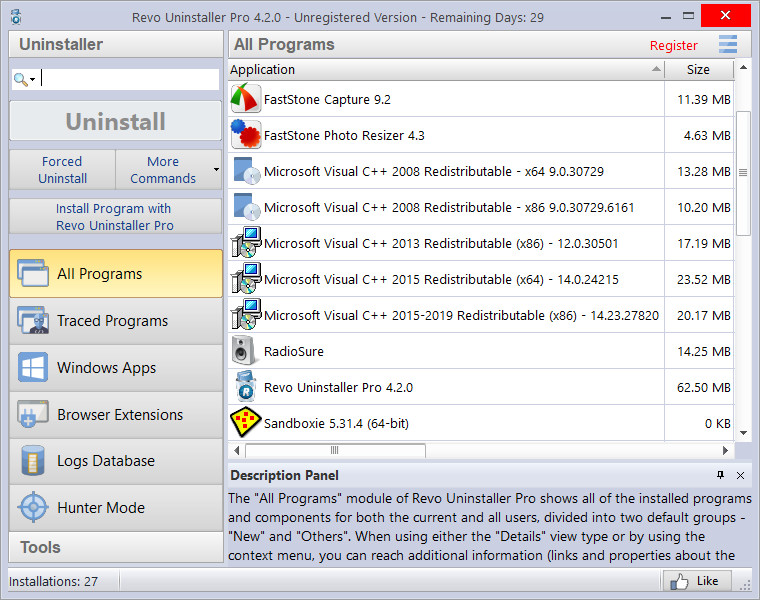 Once you run it, Revo Uninstaller scans your system and adds all of the detected software in the list automatically.
There is a search box that gives you the ability to locate the uninstallation target quickly in the main interface. This is useful if you have a very long list of installed software. The search result is displayed as you type, so it is pretty convenient to use.
When Revo Uninstaller uninstalls a program, it does the job by running the built-in uninstaller of the program, and then running a scanner to detect leftover data.
Hunter Mode
The Hunter Mode acts as a helper to perform an uninstallation. Once the icon of the mode appears, you can drag and drop it to a desktop icon (or a tray icon) to bring up a context menu where you can choose an appropriate option.
There are eight options in the context menu. "Uninstall" to remove the selected software, "Stop Auto Starting" to disable the software from launching itself automatically on Windows startup, "Kill Process" and "Kill and Delete Process" to terminate a process, "Open Containing Folder" to open the installation folder, "Search at Google for" to gather information, "Properties" to view the properties, and "Cancel" to abort current operation.
A different context menu appears if you click on the Hunter Mode icon itself. The available options let you open the main window of Revo Uninstaller, set the transparency level, change the icon size, and make the icon always on top.
Extra Tools
The "Browsers Cleaner" is among the list of the extra tools. It cleans up browser data that it deems as unnecessary such as download history, session history, cookies, temporary internet files, browsing history, address bar history, index.dat files, and form history.
It is possible to choose which data that you want to remove. For example, you can leave the cookies untouched so that you don't have to re-login to your email, cloud, and forum accounts.
"Microsoft Office Cleaner" is also a part of the tools, which is fairly useful if you have the software. What it does is cleaning the recent documents history.
"Windows Cleaner" is a cleaner specialized in cleaning temporary files, deleting thumbnail cache, removing printer history, and so on.
Revo Uninstaller Pro Free Download
Revo Uninstaller is free, but you can upgrade it if you need to uninstall browser extensions, to monitor system changes in real time, to perform forced uninstallations, to uninstall multiple programs in a row, and to create backups.
While the pro version looks tempting, the freeware version is packed with many options already. The uninstaller module, the cleaning tools, and the hunter mode are all completely free. You can click the link below to download Revo Uninstaller for Windows:
Editor: Clifford
App Info
App Name Revo Uninstaller Pro
License Full Version
Publisher VS Revo Group
Updated Aug 8, 2023
Version 5.1.7
High-quality software downloads
Anturis.com is your trusted source for software downloads.