Baidu Browser
Windows 7, 8, 10, 11

Version:

43.23.1007.94

Size:

46MB
Baidu Browser is yet another product of Baidu, which is one of the top technology companies in China. It is built upon Chromium so that's why it has an interface that looks somewhat similar to Google Chrome.
That said, there are a few features under the hood to make up for the lack of creativity in designing a unique user interface. As for whether they are good enough or not, that still depends on your personal preferences.
Features and Highlights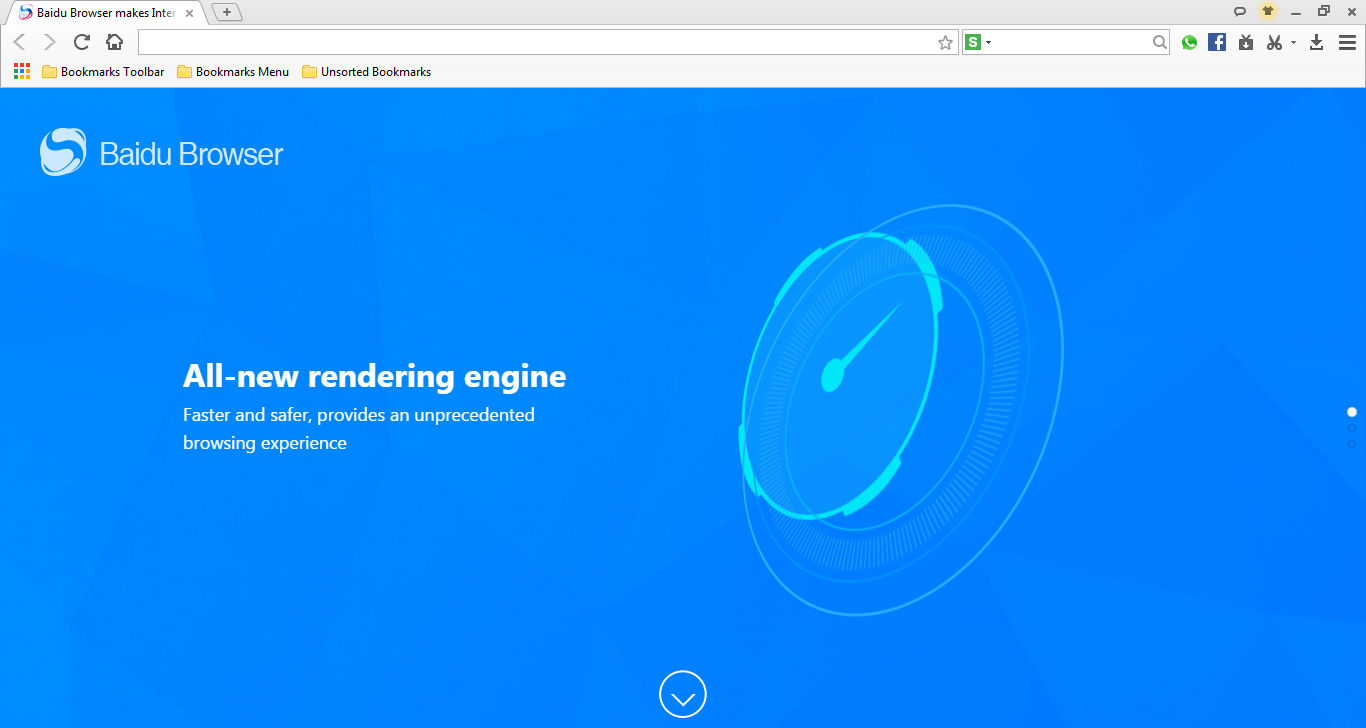 To close a tab, the most obvious way to do it is by clicking the X button on the tab. What is not so obvious but doesn't take a genius to figure it out is the keyboard shortcut Ctrl + W. Most browsers these days, if not all, uses the same shortcuts to open a tab, close a tab, restore a tab, and so on. In Baidu Browser, you can do any of these by moving the mouse in certain directions while holding one of its buttons.
This kind of mouse movement is known as mouse gesture. While such a functionality can be added to other browsers by installing an extension, it is baked into Baidu Browser. As it is enabled by default, you can use the gestures right away without having to set up anything first.
The screen capture functionality is as helpful as the mouse gesture. To start a capture, hit the capture button and choose a capture mode between capturing the whole page or capturing only a certain region of your screen. This sort of functionality is always ready at hand so you can take as many screenshots as you need anytime.
If you seem to always download something from the web every time you go online, then perhaps the download manager is more useful than the two features above. Whenever you click on a download link, a dialog box appears, showing you some details about the file that you are about to download like file name and file size, as well as to which folder that the file is going to be stored.
Before you do anything with the browser, though, it is best to dive into the settings first. Many options are there for you to tweak to get the most out of the browser. For example, you can make it so that it always open a certain page instead of a new tab on its startup.
Baidu Browser Free Download for Windows
Baidu Browser is definitely not the best browser around. While it has a screenshot taking tool and mouse gesture functionality as parts of its built-in features, they are not really that unique. Some other browsers have them baked in as well.
The speed is also pretty standard. If you really prioritize speed over features, then Microsoft Edge is a better choice. If your priority is the other way around, take a look at Vivaldi Browser.
Be that as it may, Baidu Browser might turn out to be your browser of choice after all. You'll never know about it unless you give it a try. You can click the link below to download Baidu Browser for Windows:
Editor: Clifford
App Info
App Name Baidu Browser
License Freeware
Publisher Baidu
Updated Jun 24, 2023
Version 43.23.1007.94
High-quality software downloads
Anturis.com is your trusted source for software downloads.