Baidu WiFi Hotspot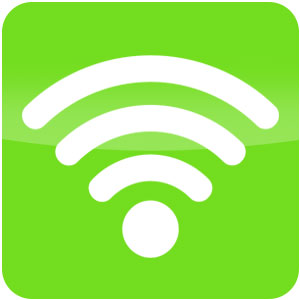 Windows 7, 8, 10, 11

Version:

5.1.4.124910

Size:

5MB
Thanks to the technology advancement, our mobile devices can connect to the internet without using any cable to browse web pages, download files, share files, watch videos, and even play games. Still, it may cost a lot of money to go online for a long time if we always rely on mobile data. This problem can be solved by using Baidu WiFi Hotspot.
If you have a PC connected to the internet, Baidu WiFi Hotspot lets you share the connection with your mobile devices. The usage is so straightforward that it is very unlikely for users to find it difficult to use.
Features and Highlights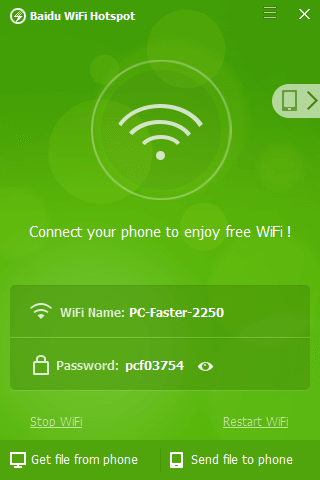 The installer allows you to change the folder path. After you do that, you can proceed with the installation which will be over in around three seconds. Baidu WiFi Hotspot will try to detect your connection immediately afterwards. During the detection attempt, the main interface shows a loading sign.
Not long after, Baidu WiFi Hotspot displays a wifi name and a password. If you open your phone wifi settings, you should find the wifi name in the list of detected networks. Tap on it and type the wifi password to connect your phone to the wifi network. You can change both the wifi name and password.
Your PC has to be connected to the internet first before running Baidu WiFi Hotspot. Otherwise it won't detect the wifi network. If it fails to detect, the interface shows a message saying that there is no wireless network adapter found in your PC. When this happens, it doesn't show any reload or refresh button so the only way to run the detection again is to exit Baidu WiFi Hotspot and launch it again.
Baidu WiFi Hotspot lets you share files between your PC and mobile devices. Click the button that says "Get file from phone" to transfer files from your mobile devices to your PC, and click the button that says "Send file to phone" to do the opposite.
If your mobile device is already connected to your PC, Baidu WiFi Hotspot will show the instructions to transfer files. The transfer can be executed either by scanning a QR code or by opening a specific URL in your mobile devices.
Baidu WiFi Hotspot has six languages to choose from. To replace the active language, click the menu, hover your mouse cursor over the languages option, and click the language you want to enable. The change happens immediately.
Baidu WiFi Hotspot Free Download for Windows
All the devices connected to the shared connection are displayed in a collapsible panel in Baidu WiFi Hotspot. The list also shows the following details for each device: its name, the time when it makes the first connection, how many times it connects to your hotspot, its IP address and MAC address. If necessary, you can block any of the connected devices.
The file transfer feature in Baidu WiFi Hotspot is a nice bonus. Even though you can use wifi direct for such purpose, not all devices support the function. You can click the link below to download Baidu WiFi Hotspot for Windows:
Editor: Clifford
App Info
App Name Baidu WiFi Hotspot
License Freeware
Publisher Baidu
Updated Jun 20, 2023
Version 5.1.4.124910
High-quality software downloads
Anturis.com is your trusted source for software downloads.