Speccy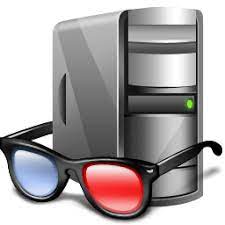 Windows 7, 8, 10, 11

Version:

1.32.803

Size:

8.6MB
Coming from the same developer of CCleaner and licensed as a freeware, Speccy is a system utility that reveals a lot of information about your hardware and software. Its simplicity is the other reason that boosts its popularity in no time since the day it was introduced.
Speccy comes with a relatively attractive interface. The background color is dark while the text has more than one color which include white, blue and orange. The white color represents static information, the blue is used for the names of the components that you can click on to open the relevant information, and the orange one is used for real-time information such as CPU and hard drive temperature.
Features and Highlights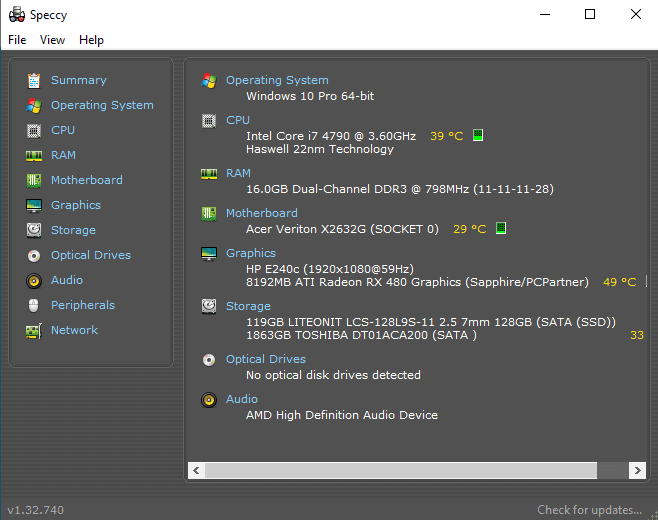 Once you launch Speccy, it scans your entire system to collect information. It takes time, but not for long. In a few seconds, Speccy will let you know all of the data it has gathered.
The data is neatly organized. On the left side, each component is listed along with its own icon. On the right side, it is where the information of each component is displayed.
The first information that Speccy presents to you after the completed scan is a summary. From there, you will find out which Windows version that your computer is using, the name of the CPU and its current temperature, the RAM type and its memory capacity, the model of the motherboard and graphic card, the storage capacity of your hard drive, and a bit information about audio and optical drive if it exists.
To see the detailed information of a component, click on its name on the sidebar. For instance, if you click on the Storage, what you will see is the name of the manufacturer, number of cylinders, SATA type, LBA size, Power On Count and Power On Time, storage capacity, firmware version, S.M.A.R.T status, temperature, and a lot more.
Speccy has four options to save the information. Save it as a snapshot, XML, text, or print it out. All of the saving options are listed in the File menu.
There is an option to minimize it to tray, too. While it sits there, you can make use of it to display the current temperature of your CPU. It only need around 9 MB to perform the task if you use its 64-bit version.
Speccy Free Download for Windows
Sometimes we need to find out the details about our installed hardware component such as RAM to prevent a mistake when buying the new one for an upgrade, but opening the computer case to get the information is really a bother.
A system information tool like Speccy is a big help in such a situation. Just sit in front of your screen, run Speccy, and the information that you are in need of is right there within a matter of seconds only. Speccy is free and simple.
Even if you don't really need it now, it is still a good decision to keep it so that you can fire it up immediately when the time comes for Speccy to get into action. You can click the link below to download Speccy for Windows:
Editor: Clifford
App Info
App Name Speccy
License Freeware
Publisher Piriform
Updated Jan 11, 2023
Version 1.32.803
High-quality software downloads
Anturis.com is your trusted source for software downloads.