ORPALIS PDF Reducer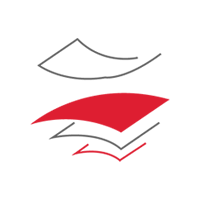 Windows 7, 8, 10, 11

Version:

4.0.7

Size:

30MB
A PDF file that contains nothing but text is usually small in size, but it can grow quickly when images are added. For files that need to be shared with other people, their sizes could be an issue that has to be addressed. If editing pages manually sounds too much of a hassle to you, then you should consider using ORPALIS PDF Reducer to solve the issue.
ORPALIS PDF Reducer uses a number of compression techniques to reduce PDF file size. How much a PDF file can be compressed depends on the techniques that are selected by users. One of the options that users can choose to enable is the fast web view. It is designed to optimize PDF files that are going to be shared online.
Features and Highlights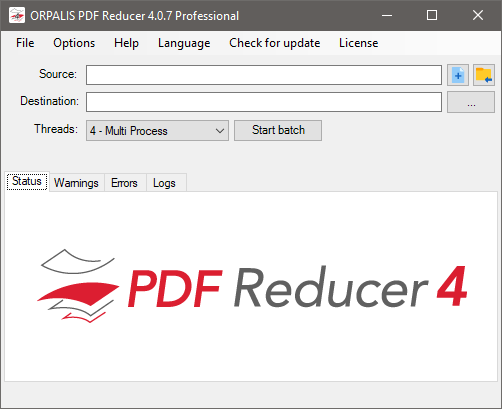 ORPALIS PDF Reducer shows a registration form on its first launch but it can be skipped. After the form is closed, the main window will appear. The default language is English and the alternative one is French. The option to change the language is available in the Language menu at the menu bar.
The Source section is where you can specify the files that you want to compress. To add a PDF file, click the plus button. To add a folder, click the folder button. The output is saved to a folder of your choice.
After specifying the output destination, the next step is to choose if you want to use the single process or enable the multi process to run the compression.
The bottom part of the main window is divided into several tabs. The compression status is shown in the Status tab. If the program encounters some technical difficulties during the process, they will be shown in the Errors tab.
You can start compressing PDF files as soon as you launch ORPALIS PDF Reducer. By default, it processes subfolders, optimize fonts, uses medium image quality setting to recompress images, enables JPEG2000 compression, downscales resolution to 150 dpi, and removes unused objects.
If you open the Options window, you will find all the compression settings that can be adjusted. You can enable MRC compression to produce optimal results, downscale images to lower resolution, switch to the lowest or highest image quality, and remove unnecessary elements such as bookmarks, embedded files, embedded fonts, blank pages, formfields, javascript, hyperlinks, and annotations.
All the changes that you have made can be cancelled quickly. Press one button and everything will revert back to their default states.
ORPALIS PDF Reducer Free Download for Windows
ORPALIS PDF Reducer is configured to reduce a PDF file size while preserving the quality as much as possible. The possibility to choose which compression options to be enabled and disabled means that you can achieve a smaller file size if you are willing to sacrifice a bit more quality.
To get the best results, you need to know what each compression option means. The developer provides a PDF user guide that everyone can download and read for free to know more about the software. You can click the link below to download ORPALIS PDF Reducer for Windows:
Editor: Clifford
App Info
App Name ORPALIS PDF Reducer
License Freeware
Publisher Orpalis
Updated Jun 17, 2023
Version 4.0.7
High-quality software downloads
Anturis.com is your trusted source for software downloads.