Baidu PC Faster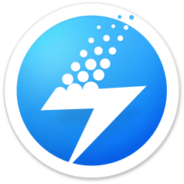 Windows 7, 8, 10, 11

Version:

5.1.3.131061

Size:

26MB
A PC can feel sluggish at times. It's annoying when it happens, but it can be fixed, and you don't have to be a skilled computer technician to do it. Many system utilities are available to get everything back to normal in just a few clicks if the problems are not too severe. Among such utilities, there exists Baidu PC Faster.
Baidu PC Faster can be described as an attempt to bring you a complete solution to deal with some common problems that affect your PC performance. You can perform system scans as many as needed with it.
Features and Highlights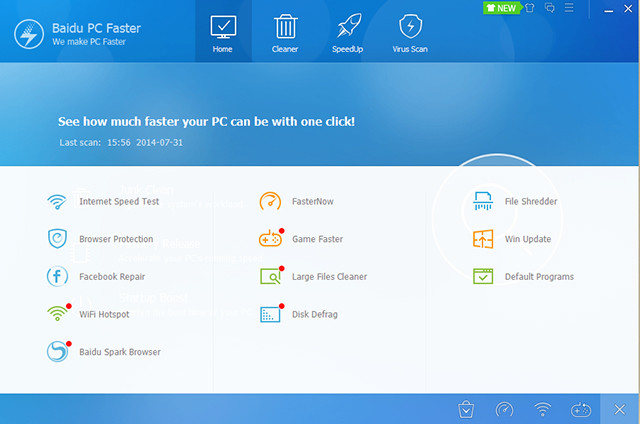 Getting rid of junk files does not always guarantee that the performance of your PC will return to its peak condition, but it is a good start. Baidu PC Faster can analyze your computer system to find those unwanted files. The analysis begins the moment you click the big scan button. Let it runs until the analysis is done, and then view the report to see how many junk files that Baidu PC Faster has found.
The freebie can detect and collect junk files from various locations such as recycle bin, the folder where your browsers save the records of your online visits, and the location where the temporary files reside. It also checks other areas like startup items, services, and scheduled tasks to see if there are more that can be optimized for better performance.
After the scan stops running, you will see a report that tells you how many items that slow down your system. Unfortunately, the report doesn't provide enough details. For example, it includes the number of unnecessary startup items, but it doesn't give any information as to which startup items that the software considers unnecessary.
Baidu PC Faster brings along a virus scanner but it is not a reliable one. You should just stick to Windows Defender or Kaspersky products to handle computer viruses.
If you have some files that you want to delete permanently, Baidu PC Faster has another tool under the hood to get it done. To use the tool, which is called File Shredder, open its window first. After that, drag and drop the files into the window, then start the deletion process.
The name of each file that you delete with the File Shredder will be recorded and kept in the history list. The record is intended for information only, not to restore the deleted files.
Baidu PC Faster Free Download for Windows
Baidu PC Faster has a somewhat stylish interface. When it runs the scan and the cleaning, it shows some animation effects for you to watch. While these kinds of decorative elements are not essential for a system tool, it is still a welcome addition for some users.
It lacks sufficient details in the reports, though. So, if you want a detailed report for every scan, you might want to look for another software. But if you don't really care about it, you can try to run Baidu PC Faster to see if it can improve your PC. You can click the link below to download Baidu PC Faster for Windows:
Editor: Clifford
App Info
App Name Baidu PC Faster
License Freeware
Publisher Baidu
Updated Jun 24, 2023
Version 5.1.3.131061
High-quality software downloads
Anturis.com is your trusted source for software downloads.