Chromium
Windows 7, 8, 10, 11

Version:

106.0.5249.119

Size:

79MB
All popular browsers are updated regularly. Sometimes the updates bring in some unwanted changes. When this situation happens, one of the possible solutions is to grab yourself a completely new browser. If you like the look and feel of Google Chrome, perhaps you will also like Chromium.
Chromium is the bare bone version of Google Chrome. It is also developed by the same company that releases Google Chrome, but it is distributed as an open source freeware. It lacks many features if you compare the two, but it is the faster one. And if you don't care and don't want anything to do with Google account sync, Chromium is definitely the one to go for between the two browsers.
Features and Highlights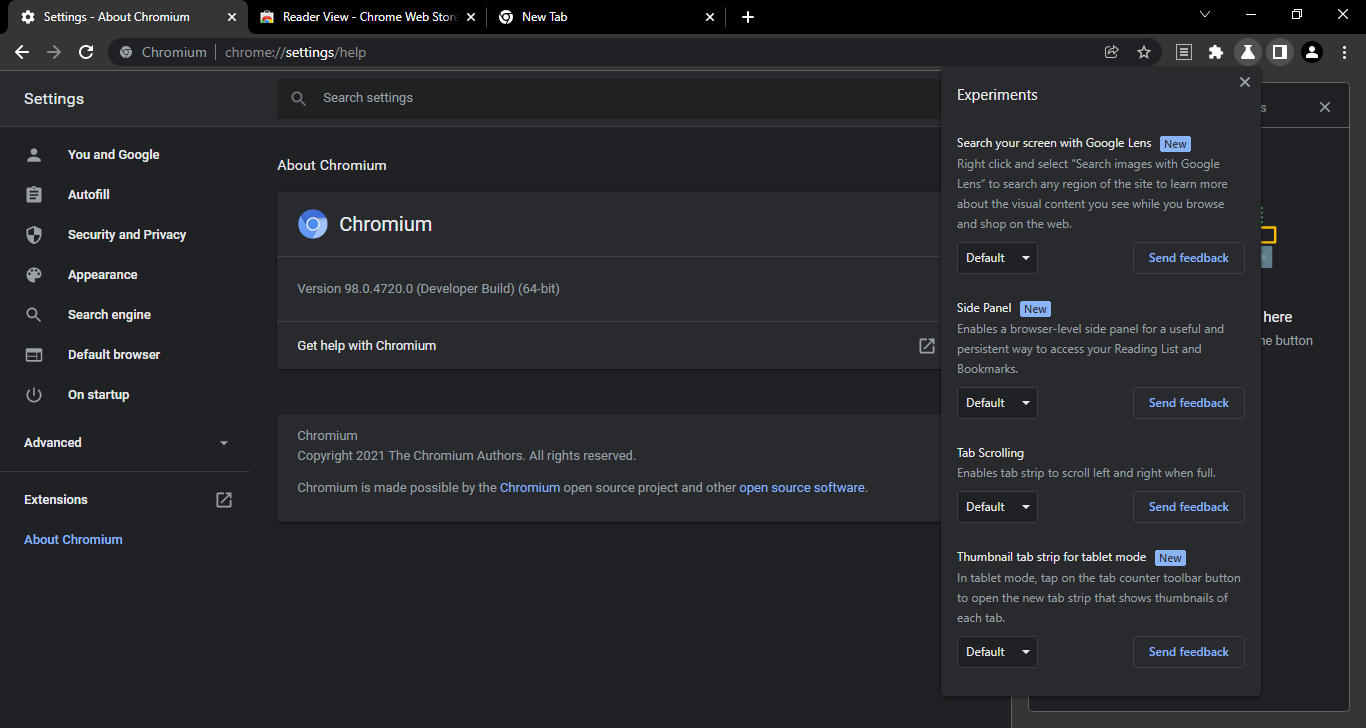 Once Chromium opens, you'll see a graphical user interface (GUI) similar to Google Chrome. Drag your mouse cursor over the Customize Chromium at the lower left, and immediately after you click on it, you will also see the identical options for all things related to the browser's appearance such as colors, themes, and backgrounds.
It gets a little bit different when you look at the toolbar. There is an additional button to view the list of the experimental features. One of them is Tab Scrolling. It lets you scroll the tab strip to the left and right when it is full. If you want to use it, you have to restart the browser after you enable it. The same requirement goes for every experimental feature in the list.
Most experimental features have three options, which are Disabled, Enabled, and Default. Sometimes there are a few that provides more options, like the Tab Scrolling. It has options to control how the browser should shrink the tabs. You can shrink the tabs to the pinned tab width, medium width, or large width.
You can also choose not to shrink the tab width at all. If you want to quickly see how the experimental feature works, you should choose this option. On a 18.5 inch monitor with a Chromium opens in the maximized mode, it takes only around 5 tabs to see the effect of the feature in action.
The next thing that sets it apart from Google Chrome is that it cannot be updated automatically. Chrome sign-in when creating a browser profile is not supported as well. It doesn't have multimedia support as good as Google Chrome too. If you want to watch Netflix, unless you know how to install the necessary component, you're out of luck.
Chromium Free Download for Windows
Disappointment is oftentimes the biggest reason of why many users switch to another browser. Luckily, there are some alternatives available. Quite many, actually, but some of them do not get updates often and some others seem to have been abandoned already. On the other hand, Chromium is an alternative that has been developed rigorously over the years and so it keeps getting features that you can play around with.
In terms of privacy, Chromium is not as good as the ungoogled-chromium browser, but it is at least better than Google Chrome. You can click the link below to download Chromium for Windows:
Editor: Clifford
App Info
App Name Chromium
License Freeware
Publisher The Chromium Team
Updated Jan 10, 2023
Version 106.0.5249.119
High-quality software downloads
Anturis.com is your trusted source for software downloads.