Eraser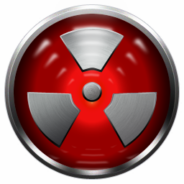 Windows 7, 8, 10, 11

Version:

6.2.0.2993

Size:

8.4MB
When a file is deleted in Windows, it is normally sent to the recyle bin. When the recyle bin is emptied, the file actually still exist somewhere. Windows only removes the reference to the file and marks the space it took up as available. Unless the space is used to store another file, the deleted file remains. What Eraser does is to ensure that the files you delete are removed completely from the disk.
Eraser is developed and maintained by a team that consists of two project admins and a UX developer. They provide it for free but donations are welcomed to support its development which has taken lots of hours and efforts.
Features and Highlights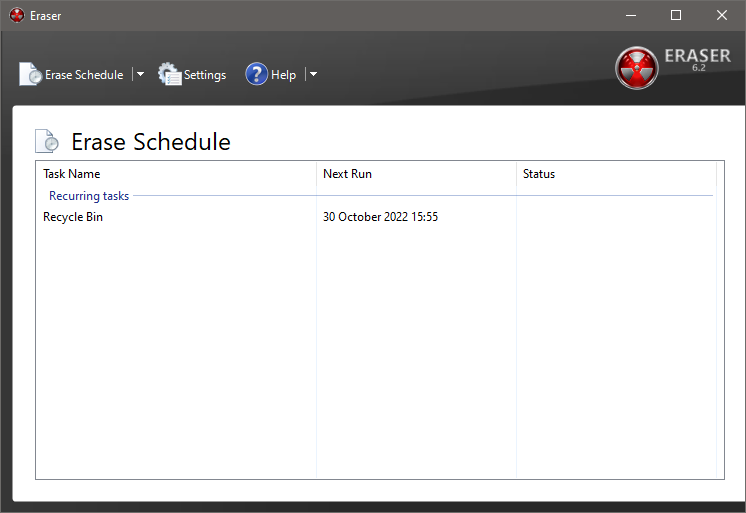 Eraser adds a shell extension component by default but it can be removed during the installation or disabled from the settings window. If you want to be able to conveniently pick a file to be deleted securely, you should leave it enabled.
With the shell extension, you can right-click on a file and choose to delete or move it. If you choose to delete it, there will be a prompt asking you to confirm the action. Pressing the Yes button will delete the file immediately. If you choose to move the file, there will be a dialog window where you need to navigate to the destination and click the OK button.
File deletion can be scheduled to run automatically every certain number of days, weeks, or months, or every time the computer is restarted.
Eraser includes an option to create a task that you can run manually. The task stays in the task list no matter how many times you run it, until you remove it from the list.
To create a task, you can press Ctrl + N, right-click in the task list and select New Task, or click the drop-down button of the Erase Schedule and select New Task.
The action will open the Task Properties window where you need to configure the task. There are two tabs in that window. The first one is Task that let you pick a task name, task type, and data type that needs to be erased.
To choose a data type, you have to click the Add Data button, which will open another window. The data types available include File, Files in Folder, Recycle Bin, Unused Disk Space, Secure Move, and Drive. If you want to wipe the content of the recyle bin regularly at a specific interval, for example, you need to select Recycle Bin and choose one of the supported algorithms that include Gutmann, US DoD, and Pseudorandom Data, among other things.
Eraser Free Download for Windows
Eraser makes it very easy to delete files securely. You can create shedules to run different tasks automatically or manually. There are several algorithms available so you can pick the fastest or the most thorough one and every task can use a different algorithm. Furthermore, the task list can be exported and imported. If the files are locked when a task is running, Eraser will unlock it by default. You can click the link below to download Eraser for Windows:
Editor: Clifford
App Info
App Name Eraser
License Freeware
Publisher Eraser
Updated Jun 17, 2023
Version 6.2.0.2993
High-quality software downloads
Anturis.com is your trusted source for software downloads.