Folder Guard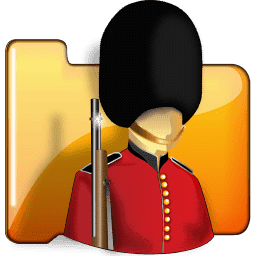 Windows 7, 8, 10, 11

Version:

22.9

Size:

8.8MB
A locked folder doesn't necessarily mean that it contains a bunch of secret files that no one should ever find out about. Perhaps the owner simply wants to avoid any accidental deletion due to the fact that his computer is also used by his family.
Folder Guard is a security software that hides and locks your private files and folders. Its locking options are flexible and easy to use. A hotkey is provided to lock and unlock, while the hotkey itself can be protected so that only you who can use it.
Features and Highlights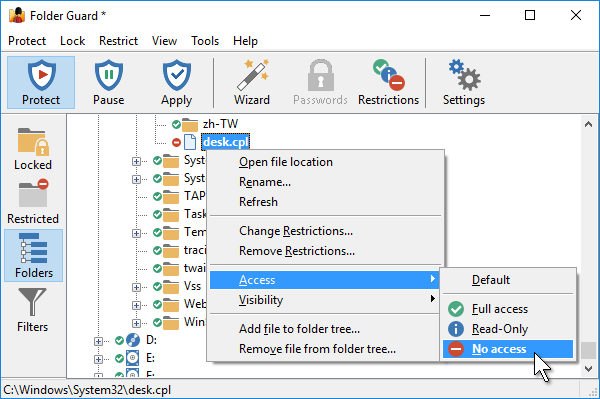 Any folder that you want to lock, Folder Guard can do it for you, no matter how many folders you want to lock. When you need to access all of the protected folders, just type in the master password once. That's exactly how easy it is to lock and unlock folder with Folder Guard.
For the more sensitive files, if necessary, you can apply a different password to each of them. However, you should be careful as it is difficult to manage too many passwords, unless you use a password manager.
Folder Guard also has a free recovery tool to help you out when you forget your password, but it doesn't come together with the software. You have to download it separately from the official website.
Folder Guard can hide your private folders, too. Hidden folders are not visible to both users and other programs until you manually make them appear again.
Folder Guard can also make your folders to appear empty to trick unauthorized users. If anyone else opens the folders, they would likely to think that the folders are not used yet.
The protection scope of Folder Guard is not limited to files and folders as it can restrict access to executable files as well, preventing other users from making any mess when they use your computer. Other users cannot even download executable files from the internet if you are willing to spare some time to create a specific rule for that purpose in Folder Guard.
When users find out that they cannot run any program and cannot download executable files, the next thing they will do is probably plugging in a removable drive. Fortunately, Folder Guard can block access to removable medias as well. However, this particular option is only available if you have Folder Guard's business license, which is more pricey than the standard version.
Folder Guard supports a stealth mode too, which prevents other users from finding out the existence of Folder Guard in your computer. When you enable this mode, Folder Guard will not even appear in the Add/Remove Programs.
Download Folder Guard for Windows
Folder Guard is a user-friendly solution for all users who want to protect their data without having to go through too much hassle.
Folder Guard is free of charge during its evaluation period which lasts for 30 days. All of the features are accessible during the free trial. There is a nag screen that shows up whenever Folder Guard is started, but it doesn't really get in the way of using the software. You can click the link below to download Folder Guard for Windows:
Editor: Clifford
App Info
App Name Folder Guard
License Shareware
Publisher WinAbility Software Corporation
Updated Jan 10, 2023
Version 22.9
High-quality software downloads
Anturis.com is your trusted source for software downloads.