OBS Studio
Windows 7, 8, 10, 11

Version:

28.0.3

Size:

117MB
OBS Studio is the perfect software to show off the godly talent that you posses in playing games. Even if you are not into gaming, OBS Studio can be used to record anything on your screen and then broadcast it to the whole world.
Its support for YouTube alone should already be good enough to deliver your content to a large number of audiences. If that doesn't satisfy you, other major streaming services are also supported. Streaming to multiple platforms at once is not impossible either.
Features and Highlights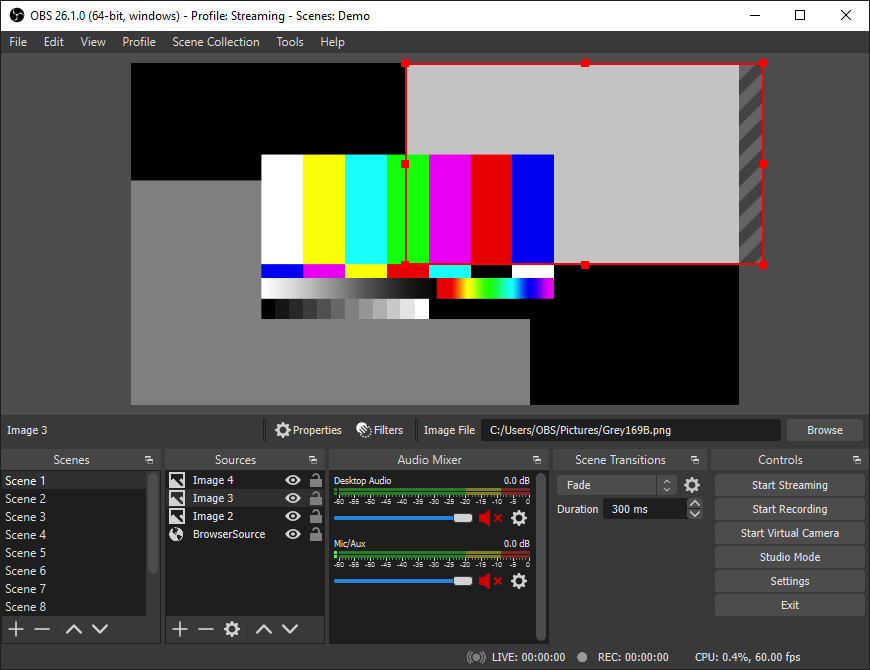 OBS Studio packs tons of configurations that may look intimidating, but it also comes with a wizard to help you with the setup on the first run.
The wizard, which is named "Auto Configuration Wizard", basically asks how you plan to use the software. Is it for streaming or recording? The wizard will then optimize the settings automatically based on your answer and hardware performance. The settings can be modified later if necessary.
The wizard appears as soon as you launch OBS Studio, but it is optional. You can skip it for later. Any time you need it, click the Tools menu.
The Tools is a part of the menu bar. Located at the top, this menu contains some advanced features. Directly below the menu is the preview area, largely occupied by a black screen when OBS Studio isn't capturing any video. And the bottom area, it is split into five sections.
Among them are the two sections called Scenes and Sources. Every scene that you create can contain one or multiple sources such as browser, webcam, picture, terminal window, game, and more. While sources go into scenes, scenes are used in your video.
When you are streaming, you can switch between scenes. You are free to add as many scenes as possible, but it might become a problem when you are live streaming even if each scene has already had a distinctive name. So, it is better to keep the number of scenes as few as possible to prevent mistakes, like switching to a wrong scene or forgetting to make a switch when the time comes.
Download OBS Studio for Windows
You also need to be careful when selecting audio tracks as it can lead to a copyright issue. Such a problem can be avoided completely if you can create your own music to be used for streaming. Unfortunately, not everyone has the talent to become a musician. There are even people who are tone deaf. But, this is a problem that can be solved easily as there are many places where royalty free music can be found.
Perhaps OBS Studio is not the easiest software to use, but it is a very powerful one with loads of options to tinker with. The Auto Configuration Wizard is a good start for beginners and helpful for anyone who just want to get started immediately. If you are going to create a channel for streaming, this OBS Studio might turn out to be the main tool that you rely the most. You can click the link below to download OBS Studio for Windows:
Editor: Clifford
App Info
App Name OBS Studio
License Freeware
Publisher OpenBroadcasterSoftware
Updated Jan 11, 2023
Version 28.0.3
High-quality software downloads
Anturis.com is your trusted source for software downloads.