WordWeb
Windows 7, 8, 10, 11

Version:

10.2

Size:

22MB
There are many online dictionaries that you can use to look up words, so it might seem pointless to download a dictionary software unless you often go to places where the internet is out of reach. If you rarely get trouble to go online, is such a software still useful? Yes. WordWeb provides you with the possibility to find the definition of any word from within most, if not all, word processors such as Microsoft Word.
WordWeb is free on the condition that you don't take more than two flights every year. The features of the free edition are not as many as the professional one, but it is still a great choice for anyone who needs an English dictionary at no cost.
Features and Highlights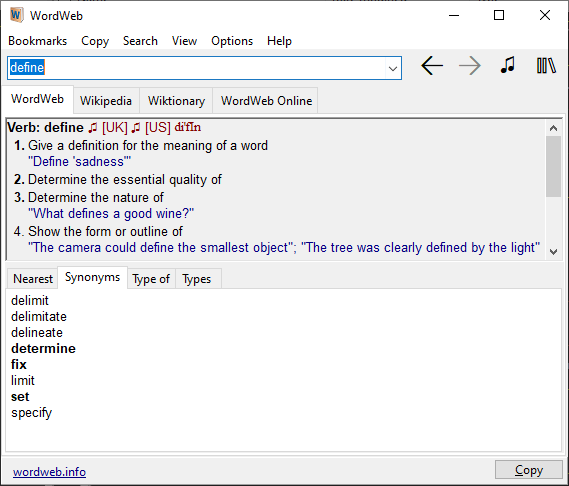 WordWeb offers two ways to look up a word. Either by typing the word or by using the customizable hotkeys. By default you can right click a word while holding down the Ctrl key to bring up the main window where you can read the definition of the word as well as the synonyms and similar words.
It is also possible to use Ctrl + Alt + W but you have to highlight the word first. On the plus side, the keyboard shortcut allows you to look up the combination of several words. Additionally, it allows you to replace the selected words with any synonym that you choose from the list.
Each word in the main window can also be clicked to look up its definition. The buttons that let you go back and forward makes it possible to open up the words that you have looked up.
You can keep any word that you look up as an item in the bookmark list. To do this, press Ctrl + D or click the Add command in the Bookmarks menu. Anytime you want to open up a bookmarked word, open the menu again and click the word that you need.
If you look up a word that has several definitions, WordWeb groups the definitions into verbs, adjectives, nouns, prepositions, and conjunctions. Most of the definitions come with examples to understand the words better. If you still need more information, click the Wikipedia, Wiktionary, or WordWeb Online tab. These additional tabs require internet connection.
WordWeb includes an audio module that lets you listen to the pronunciation of each word. Click the music icon next to the back and forward buttons and you will instantly hear the voice. If you want more pronunciations, you have to upgrade the free edition to the pro version.
Download WordWeb for Windows
There are more dictionary packs that you can add into WordWeb. The packs include Oxford Dictionary of English, Collins English Dictionary, Chambers Dictionary and Thesaurus, and Shorter Oxford English Dictionary. Each of them can be purchased separately.
Even without these additional dictionary packs, WordWeb is already a powerful tool to assist you in understanding the meanings of words. Its ability to optionally stay on top is another plus for you who want to display it side by side with the word processor you are using. You can click the link below to download WordWeb for Windows:
Editor: Clifford
App Info
App Name WordWeb
License Freeware
Publisher Antony Lewis
Updated Jan 11, 2023
Version 10.2
Good speed and no viruses!
Anturis does not repack or modify downloads in any way! All files are in original form.