UltraVNC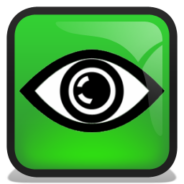 Windows 7, 8, 10, 11

Version:

1.4.2.0

Size:

4.5MB
As a remote desktop software, UltraVNC can help you more than just transferring files from one computer to another. The chat feature is also helpful to explain the situation when you are trying to help someone fix a computer issue.
The greatest benefit when you use a remote access software like UltraVNC is that you can control another computer from a far location. The level of control makes it as if the computer were right in front of you. Though as for the ease of use, everyone's mileage may vary.
Features and Highlights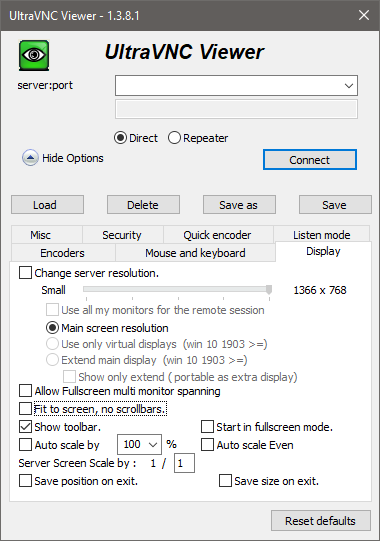 One of the handiest features in UltraVNC is the possibility to create a shortcut to a remote computer so that you can access it more quickly than usual.
To make UltraVNC works, UltraVNC Server must be installed on the computer that you're going to access remotely, and UltraVNC Viewer must be installed on the computer that you use to connect to the server.
Furthermore, port forwarding and a static IP address needs to be configured for the server to be able to accept connection from the other computer where UltraVNC Viewer is running.
A password also needs to be set up to prevent any third party from accessing the computer. After you choose a password, every time you are going to connect to the server, you are required to enter the correct password.
In addition to file transfer, UltraVNC can transfer folders between the two computers. In order to save bandwidth and increase the transfer speed, files are compressed before they are transferred to the destination.
The lowest compression level is 0, while the highest is 9. The higher compression level selected, the more time it takes to compress files, but it usually results in smaller file size.
JPEG images can be compressed too before they are transferred. To get the highest image quality, set the quality level to 9. If you don't really care about the quality, set it to zero. The quality is bad but the compression is good.
An optional DSM Encryption is available to secure communications. In the Security tab, other than the option to enable the encryption, there are several other options: only allow encrypted servers, only servers with password, disable clipboard transfer, auto accept incoming, hide menu, and custom notification on connect.
If you move to the Display tab, you can change the server resolution, hide scrollbars, show toolbar, auto scale, and more. There are seven tabs in total. Each comes with a set of options that allow you to fine tune UltraVNC so that it works exactly like your expectation.
UltraVNC Free Download for Windows
Flash drive is the simplest way to carry your data around with you, but sometimes you might forget one or two important files when you are already on your way to the office. Instead of turning around and wasting time and energy, using UltraVNC to connect to the computer at home remotely is a much more convenient option. This is just one example of how UltraVNC can be handy in your daily life. You can click the link below to download UltraVNC for Windows:
Editor: Clifford
App Info
App Name UltraVNC
License Freeware
Publisher UltraVNC Team
Updated Jun 17, 2023
Version 1.4.2.0
High-quality software downloads
Anturis.com is your trusted source for software downloads.