ePSXe
Windows 7, 8, 10, 11

Version:

2.0.5

Size:

1.3MB
Many old games are still fun to play, and the easiest way to revisit those games is to use an emulator. ePSXe is an emulator for retro gamers who are eager to have the joy of playing PlayStation games on Windows PCs.
There were hiatuses in its development but ePSXe still remains as one of the best emulators for PSX games. In order to use it, aside from the operating system, there are two more requirements that you need to have: a video plugin and a PSX BIOS.
Features and Highlights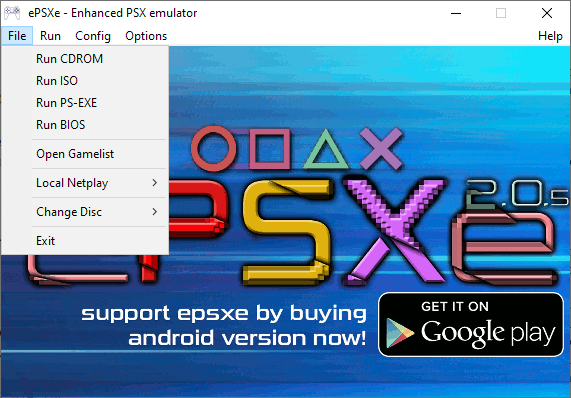 ePSXe is distributed in a zip package. It contains all the files required for ePSXe to be able to function properly, so you need to extract them all.
Among the files within the archive there is an exe file named ePSXe.exe. Double-click on it and the config window will appear. It provides a wizard-style guide for users, which includes seven steps, to set up ePSXe–the last step is only a confirmation that everything has been fully configured. You can optionally skip the wizard to go directly to the main interface where you can configure ePSXe manually or fire up the wizard once again.
If you don't have a PSX BIOS yet in the ePSXe BIOS folder, there will be a notification message letting you know that it cannot find the BIOS and hence you're suggested to use the included HLE BIOS or search for a certain BIOS on the internet.
Note that HLE BIOS is known to be less compatible. You should use either SCPH1001 (US) or SCPH7502 (PAL) BIOS. At this moment these two are recommended by the developers. While you can use other BIOSes, these two are the most common.
If you decide to use any of the two recommended BIOses, or other BIOS, you need to extract the BIOS first if you download it in a ZIP, RAR, 7z, or other archive type. And then use the scanner included in ePSXe to find the BIOS location or specify the path to the location manually.
ePSXe supports keyboard and joystick. Additionally, it includes emulation for digital and analog joypads, Dual Shock, and PSX mouse. You can configure these emulations in the sixth step of the Wizard Guide.
Once you finish configuring ePSXe, you will be reminded to restart ePSXe to activate all the changes that you have just done before.
ePSXe Free Download for Windows
The included HLE BIOS makes it easier for users to configure ePSXe but some troubles might come up later because of its compatibility issue. It would be better to use the BIOS that you dump from a PSX or download the BIOS from somewhere if you cannot do it. Keep in mind that the official BIOS, in certain countries, can only be legally used with ePSXe if you own the PlayStation device.
Regardless of the legal issues, ePSXe provides the cheapest way possible to play PlayStation games. Perhaps you're a retro gamer, or perhaps you own a broken PlayStation and miss the old days. No matter which you are, ePSXe is here to give you a hand. You can click the link below to download ePSXe for Windows:
Editor: Clifford
App Info
App Name ePSXe
License Freeware
Publisher ePSXe Team
Updated Jun 20, 2023
Version 2.0.5
High-quality software downloads
Anturis.com is your trusted source for software downloads.