Macrorit Disk Scanner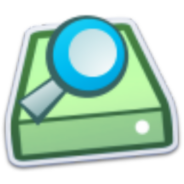 Windows 7, 8, 10, 11

Version:

5.1.4

Size:

20.7MB
When you're in doubt about the condition of a hard drive, you can check it for errors. Windows has a built-in tool for this, but there are users who prefer to use Macrorit Disk Scanner instead.
There are four editions of Macrorit Disk Scanner: Free, Pro, Server, and Unlimited. The free edition has a reduced scan speed, supports hard disk capacity up to 16 terabytes, and is distributed only for personal use. Aside from lacking the roll-back functionality, it also lacks supports for WinPE bootable discs and certain versions of Windows servers. The paid version has these features, including the support for 32 terabyte hard disk.
Features and Highlights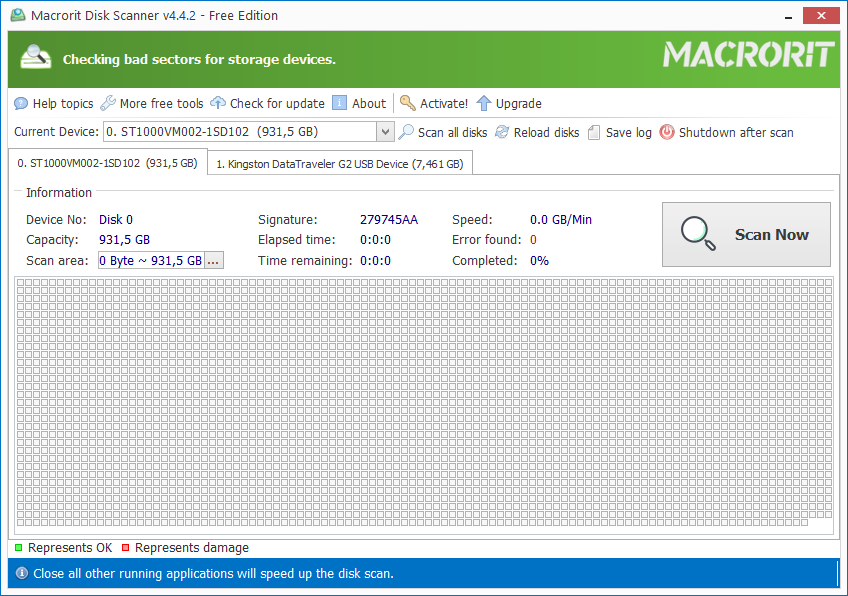 Macrorit Disk Scanner is a free diagnostic tool to help you decide whether a disk is still fine or has damaged enough to warrant for a replacement. The developer provides a portable version, in addition to the installer, so you can run it from a USB drive if you really have to.
Macrorit Disk Scanner has a simple interface that casual users will likely to find it easy to understand. Located near the top is a drop-down box that reveals all the hard drives plugged into your computer. You can see the name and total capacity for each disk.
To the right is a row of buttons to scan all disks, reload disks, save log, and shutdown the computer after the scan is completed.
Below the drop-down box and buttons is where you will be able to watch the scanning process. If you have more than one hard drive, each will be displayed in a separate tab. If you plug in an external drive, a new tab will appear after you press the reload disk button.
Macrorit Disk Scanner can scan all disks at once or scan a single disk at a time. To do the former, click the Scan All Disks button. To do the latter, open the tab that contains the hard drive that you want to scan, and click the Scan Now button.
During a scan, Macrorit Disk Scanner will highlight the healthy sectors in green color and the bad sectors in red color. The statistics report located below the tab shows the scan progress in real time which include the current scan speed, elapsed time, remaining time, the number of detected errors, and the percentage of the scan that has been completed.
It is suggested to close all other running programs to speed up the scan and avoid any possible unwanted interruption. Also, don't forget to back up the important data before scanning the disk.
Macrorit Disk Scanner Free Download for Windows
Even if Macrorit Disk Scanner finds errors, it won't repair them. The other downside that is probably going to be a deal breaker for some users is the limited speed. Scanning disk for errors in full speed takes a lot of time, let alone with a limited speed. If you'd like to find out how long it takes to scan your hard drive, you can click the link below to download Macrorit Disk Scanner for Windows:
Editor: Clifford
App Info
App Name Macrorit Disk Scanner
License Freeware
Publisher Macrorit
Updated Jun 17, 2023
Version 5.1.4
High-quality software downloads
Anturis.com is your trusted source for software downloads.