Hiren's BootCD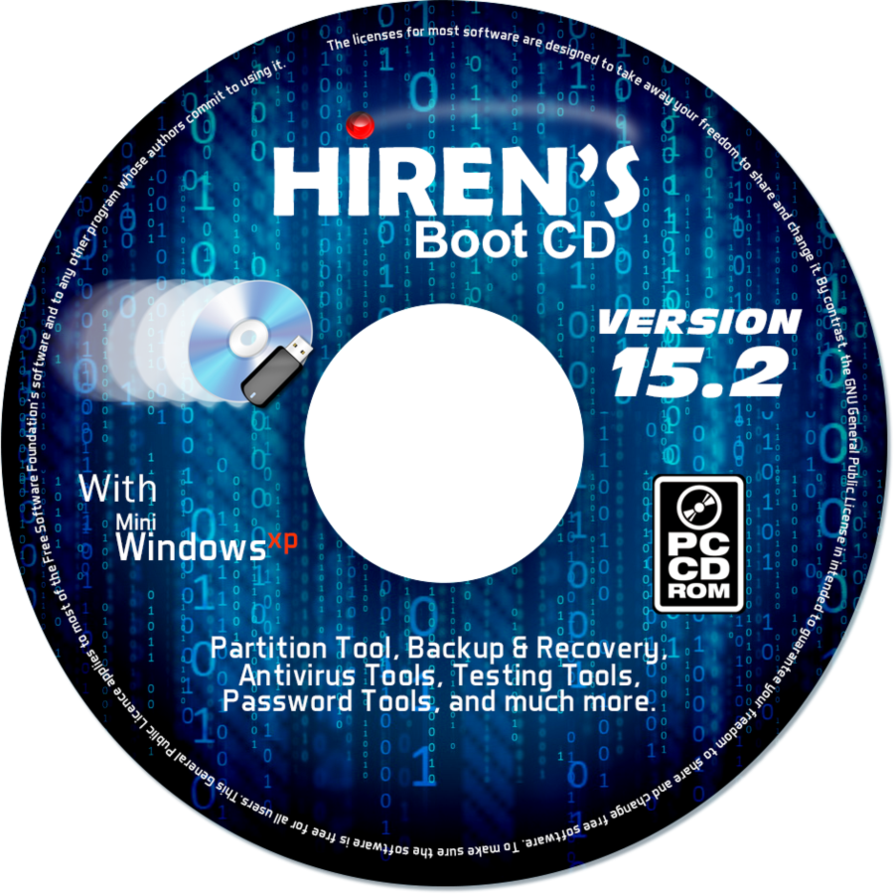 Windows 7, 8, 10, 11

Version:

1.0.1

Size:

1.3GB
There are many reasons why a computer fails to boot. Perhaps it is because of virus infection, broken hardware, registry changes, or a particular Windows update. Since it can happen anytime, having Hiren's BootCD ready at hand will help you to get the computer up and running as long as the problem is not because of a hardware malfunction like a dead power supply.
Hiren's BootCD is a bootable rescue media containing a wide selection of diagnostic and repair tools, including Partition Find and Mount to troubleshoot certain issues related to partitions, DataRescue to recover lost data, and dozens of other tools that are useful when your computer is in trouble.
Features and Highlights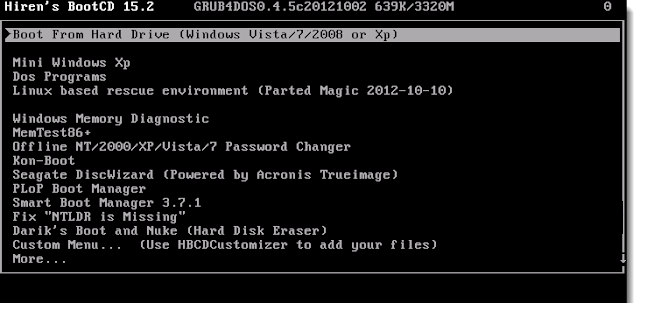 Hiren's BootCD comes as an ISO file so it cannot be installed like the way you do with a standard program. You have to burn the ISO file to a USB device or DVD disc. A USB stick is preferable since many computers are built without DVD drives anymore.
Before you begin burning the file, make sure that you have moved the data inside the USB device to somewhere else. Or, just use a new USB device.
There are several software that are capable of creating a bootable USB drive with the minimum of fuss. One of them is the free, portable, and lightweight Rufus.
To use the bootable drive you have just created, you have to change the computer's boot priority first. You have to make sure that it is already set to boot from USB device.
Once Hiren's BootCD is running, you can start using the tools you need. If you suspect that your computer won't boot because it is infected with a nasty virus, you can use the available antivirus tools such as Avira AntiVir Personal, ClamWin Free Antivirus, Remove Fake Antivirus, Dr.Web CureIt! Antivirus, and Malwarebytes Anti-Malware.
There are also tools to fix the master boot record, check the hard drive health, erase disk securely, analyze the system and disk usage, clean junk files, defrag hard drive, backup registry, detect and repair bad sectors, and format hard drive.
The list doesn't end there. There are still other helpful tools that let you manage the partitions of your hard drive, test RAM, view images, play audio files, copy files, manage Windows product key, and recover lost passwords.
You should check out the backup tools too. It has CloneDisk to duplicate a disk, CopyWipe to copy the contents of a hard drive while also providing a means to perform a secure wipe, Macrium Reflect to create full backups, and Seagate DiscWizard to backup partitions.
Hiren's BootCD Free Download for Windows
Unless you are dealing with a lot of computers in your line of work, it is unlikely that you will often need Hiren's BootCD. However, it is still a good move to keep it ready all the time since PC disasters mostly happen at unexpected times.
All you need is just a DVD disc or USB stick which is much cheaper than the cost of losing your data. You can click the link below to download Hiren's BootCD for Windows:
Editor: Clifford
App Info
App Name Hiren's Boot CD
License Freeware
Publisher hirensbootcd.org
Updated Jun 17, 2023
Version 1.0.1
High-quality software downloads
Anturis.com is your trusted source for software downloads.