Ares Galaxy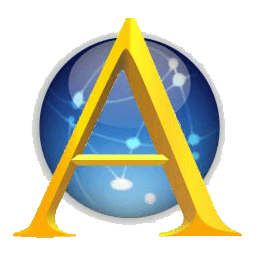 Windows 7, 8, 10, 11

Version:

2.58

Size:

5.3MB
There are many ways to share your files with friends, colleagues, clients, or anyone else. Perhaps emails and social apps are the most common ways to do it. Alternatively, you can try Ares Galaxy.
Ares Galaxy facilitates file sharing by taking advantage of the power of peer to peer technology. It connects users to each other to upload and download files. Since every user acts as both client and server, the download speed gets faster the more users join and share the same files. Of course, no matter how many users participating in sharing files, your download speed will not exceed its maximum limit.
Features and Highlights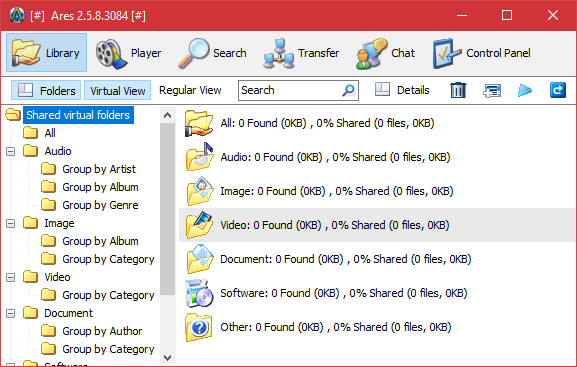 Ares Galaxy provides a built-in search engine to help users find the files they want to download. It can open multiple tabs and search different file on each tab. This ability is handy when you need to search something new but you don't want to close the current search.
The search engine is located in the Search tab. Ares Galaxy has six tabs in total. The other five tabs are Library, Player, Transfer, Chat, and Control Panel.
The Library tab is a section in Ares Galaxy that helps you manage your files by providing multiple folders to group different kinds of files. The folders are titled All, Audio, Image, Video, Document, Software, Other, and Recent Downloads. While the left side is used to navigate through the folders, the right side is used to show the contents. If you click the Shared Virtual Folders located at the top, you will be able to see the stats of your shared files.
The Player tab is a collection of internet radios and live TVs. The internet radios are categorized under various genres such as Jazz, Blues, Soul, Dance, Country, Classical, Electronic, Folk, Funk, Disco, Humor, Indie, and so on. There are dozens of radios available in nearly each group. The live TVs, on the other hands, are much fewer. It only has three groups, which are Entertainment, Sport, and News.
The Transfer tab is where the progress of the transferred files is reported. You can click a file to play or preview it whenever possible. The interface has a top and bottom panel. The top one is used to track the download progress, and the bottom one is used to track the uploaded files. On each panel you can view the speed, status, and progress of each task.
Ares Galaxy Free Download for Windows
The rightmost tab shows every configuration you can tweak to customize Ares Galaxy: pause video when switching to another tab, limit the download and upload bandwidth, limit the number of download and upload tasks, change the default skin, specify a destination folder to save downloaded files, change language, write an automated reply for chats, block private messages in chat, and a lot more.
All in all, Ares Galaxy offers an interesting choice for anyone who is looking for an alternative way to share files. You can click the link below to download Ares Galaxy for Windows:
Editor: Clifford
App Info
App Name Ares Galaxy
License Freeware
Publisher Ares Galaxy
Updated Jun 17, 2023
Version 2.58
High-quality software downloads
Anturis.com is your trusted source for software downloads.