Malwarebytes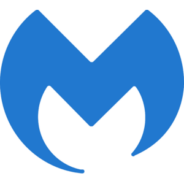 Windows 7, 8, 10, 11

Version:

4.5.15.215

Size:

284MB
Malware infections have been happening for ages. The more we get tangled with technology, the more likely we get our machines infected. Like it or not, malware is already a part of our modern life. A regularly updated anti malware should be able to provide sufficient protection, yet malware infections are still popping out everywhere.
When a computer gets infected despite the presence of a full-featured security product, a stronger anti malware is necessary to fix it. This is the situation when you need to give Malwarebytes a shot.
Features and Highlights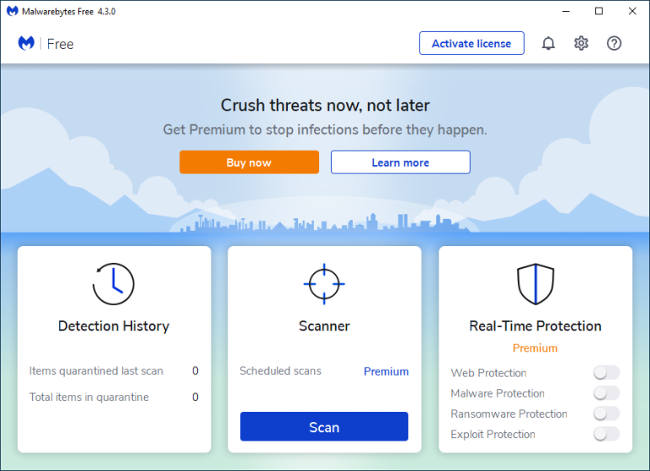 It goes without saying that the free edition of Malwarebytes lacks some of the advanced features that are reserved for the paying customers, but its main function to remove malware is left untouched.
Don't expect it to prevent malware attacks, though. The absence of the real-time protection is the reason of why such a thing is impossible. This privilege costs money. The free plan only allows you to deal with existing malware.
True to its nature as a freemium, there are a few offers that urge you to spend money on the premium edition. The locked features are also put in plain sight, used as a tease to let you know what kinds of luxuries that you are missing as a free plan user.
In the main interface of Malwarebytes, there are scheduled scan, web protection, malware protection, ransomware protection, and exploit protection. All of these features are locked. The only available option is the scan button.
During the scan, Malwarebytes lets you know which areas that are being scanned such as registry, memory, and startup items. The other information it provides include the scan duration and the number of items that have been scanned.
After the scan is completed, more details are provided where you can see a list of detected malware. The name, type, object type, and location of each malware are reported in the scan result. A click on the Quarantine button moves these malware to an isolated area in Malwarebytes.
Malwarebytes also has an automatic quarantine that moves the detected malware immediately to the isolated area, but only paying customers can enable the feature.
It's kind of annoying to install a software only to find out that most features are locked, but there is nothing that can be done about it. This is why it is called a freemium, not a freeware.
Download Malwarebytes for Windows
Since the real-time protection is also locked, at best Malwarebytes can only serve as a second opinion scanner when you are in doubt. You can keep it installed and run it periodically or only when the situation forces you to use it. A combination between Windows Defender and Malwarebytes should be strong enough to handle malware threats.
If Malwarebytes detects and removes malware in your computer that the other products failed to, you should consider about upgrading the free edition to unlock more features, especially the real-time protection as it is the only feature capable of turning Malwarebytes from a passive to an active anti malware that shields your system all the time. You can click the link below to download Malwarebytes for Windows:
Editor: Clifford
App Info
App Name Malwarebytes
License Freeware
Publisher Malwarebytes
Updated Jan 11, 2023
Version 4.5.15.215
High-quality software downloads
Anturis.com is your trusted source for software downloads.