Cdex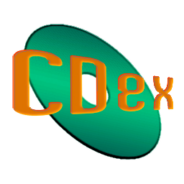 Windows 7, 8, 10, 11

Version:

2.19

Size:

21MB
Instead of playing your CD every time you want to listen to the songs, you should rip that CD and store the songs on your computer. This way they will be much easier to access. Plus, your CD will be less prone to damages. It is easy to rip CDs, after all. Even if you have too many CDs to count, it will still be like a walk in the park with Cdex.
Cdex has the ability to streamline the process of ripping CDs. The other reason to use it is that the portable version is there for you take at no cost, not to mention the small file size. The installer is also available in case you prefer installing for some reason.
Features and Highlights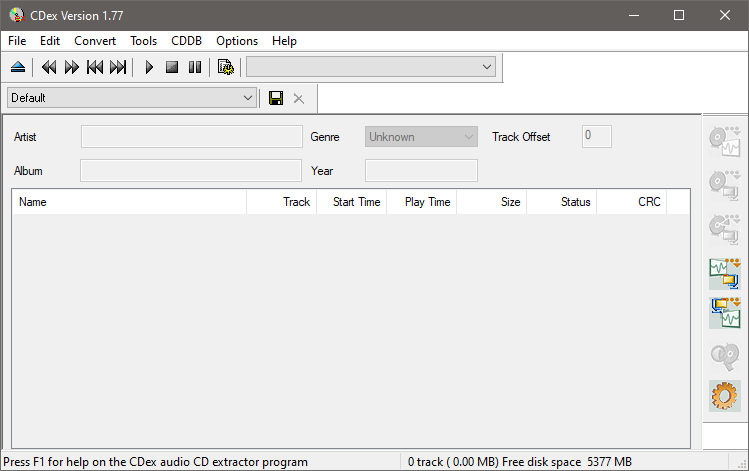 Before you start ripping any CD, you should dive into the Options to see if there are settings that need to be adjusted. For example, the automatic shutdown. You would probably want to enable this if you don't have any intention to keep using your PC after Cdex has nothing left to do.
The other settings you might want take a look are the filename format, the location where the output is stored, automatic CD ejection, jitter correction, ripping method, thread priority, and volume normalization.
The audio tracks in your CD can be ripped as plain WAV files or compressed and saved as MP3, OGG, AAC, or FLAC files. There are plenty of encoders you can choose to compress the audio tracks. Microsoft WMA, FAAC, Psytel AAC, Windows MP3, Yamaha VQF, Ogg Vorbis, External Xing, and so on.
Cdex shows your song files after the CD is inserted, but sometimes their names are a mess which makes it hard to tell which song is which. Cdex can connect to a remote database to fix the names so that they will show up properly. Sometimes, though, Cdex might find several matches for a song, so you have to pick one.
The right pane of Cdex, if you look at it closely, there are two buttons indicating that the free software is not just a CD ripper. If you don't insert any CD yet, it is easy to spot those two because the others are greyed out, except for the gear icon that acts as a quick shortcut to Cdex settings.
Those two buttons allow you to convert audio files stored on your computer. For compressed audio files, Cdex can convert them to WAV. On the other hand, it can also convert WAV to compressed audio files.
Cdex Free Download for Windows
When you need to convert, for instance, MP3 to WAV files, you need to add the folder where those files are stored. Cdex will automatically detect and show the files in that folder. The next step is to select the files and then press the Convert button.
All in all, whether it is to rip audio CD or convert audio files, Cdex is a freeware that offers the necessary features to get the tasks done. You can click the link below to download Cdex for Windows:
Editor: Clifford
App Info
App Name Cdex
License Freeware
Publisher Cdex
Updated Jun 17, 2023
Version 2.19
High-quality software downloads
Anturis.com is your trusted source for software downloads.