Real Alternative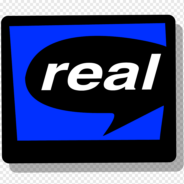 Windows 7, 8, 10, 11

Version:

2.0.2

Size:

6.6MB
The web has switched to HTML5 technology to stream multimedia contents, but if you come across some RM contents that still require RealPlayer to play, then perhaps you'd like to use Real Alternative instead of RealPlayer.
Real Alternative provides the most necessary functionalities of RealPlayer without the extra features. Simply put, it's a lightweight version of RealPlayer. The advantages of using Real Alternative is that it is more responsive and it occupies less of your computer storage space than RealPlayer.
Features and Highlights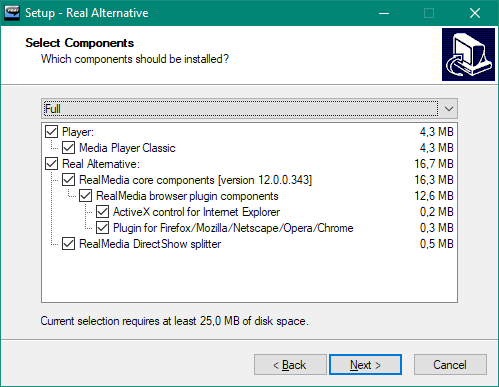 Real Alternative doesn't have a graphical user interface. If you find a video embedded on a site that requires RealPlayer to watch, Real Alternative will open up Media Player Classic. It is a free video player bundled in the setup package of Real Alternative.
Media Player Classic is an optional feature. You can install it along with the codecs necessary for RM contents or you can unselect it to prevent its installation and use your default video player instead.
When you run the installation of Real Alternative, you will be provided with three options: full installation to get all components installed which require at least 25 MB of disk space, normal installation that excludes Media Player Classic, and custom installation to remove the components that you don't think necessary.
There is not that much difference in terms of file size between the full and normal installations. If you exclude Media Player Classic from the installation, you will only save about 5 MB of disk space.
After you choose the Real Alternative components that you want to install, you'll be presented with other options to create a new shortcut in the Start Menu folder and desktop as well as to use Media Player Classic as the default player for all of the supported RealMedia file types.
If you always exercise caution when installing new software, perhaps you will be interested in enabling the option to create a system restore point before the installation is initiated. It will take a longer time before you finally can use Real Alternative, but it's worth it to anticipate any bad situation that could happen after you finish the installation.
Before you hit that Install button to integrate Real Alternative into your computer system, you may review the details of the installation in case you forget something. For example, you might not want to create a shortcut in the Start Menu folder yet you forget to put a tick in the check box.
Real Alternative Free Download for Windows
Real Alternative offers a lightweight solution to enjoy RM contents on the web without having to install the bloated RealPlayer. The included video player, known as Media Player Classic, is small in size yet capable of playing videos and audios just like a full-featured multimedia player. Some extra functions are available as well.
For example, the bookmarking functionality. It lets you add any video you like as an item in the favorite list, making it easier to watch the video anytime you want. And there are a few more to get from this lightweight video player if you choose to install it along with the core components of Real Alternative. You can click the link below to download Real Alternative for Windows:
Editor: Clifford
App Info
App Name Real Alternative
License Freeware
Publisher Codec Guide
Updated Jan 10, 2023
Version 2.0.2
High-quality software downloads
Anturis.com is your trusted source for software downloads.