Typer Shark Deluxe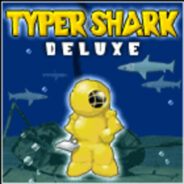 Windows 7, 8, 10, 11

Version:

1.2

Size:

5.4MB
If you type every day for hours, you will be more familiar with your keyboard, and your typing speed will eventually improve. Playing Typer Shark Deluxe every day will also help boosting your typing accuracy and speed since typing words is the only way to win the game.
Typer Shark Deluxe is a game developed for anyone who wants to become better at typing. The gameplay is fairly fun. You have to fight the sharks that attack you. Each shark has a word that you must type to kill the creature.
Features and Highlights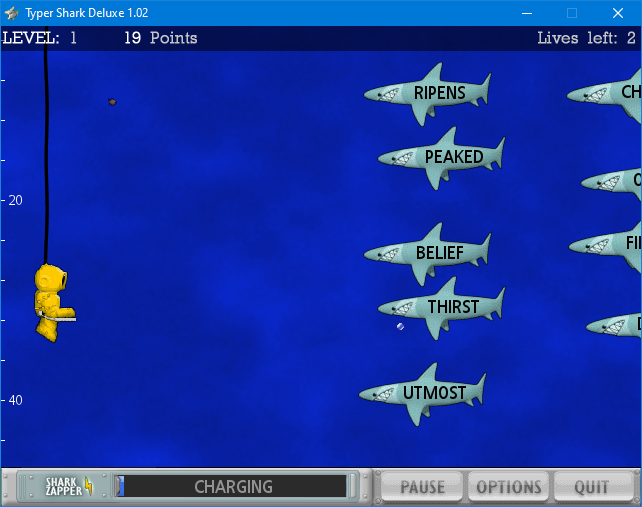 Your role in this game is a diver. You dive into the sea to look for treasure. When you dive, a group of sharks attack you. On each body of those sharks, there is a word. Type the word and the shark dies. Since each shark comes with a different word, you have to type them all until there is no shark left.
The length and complexity of each word depends on the difficulty level you choose, as well as how far you have progressed in the game.
The game is divided into three modes. The first two, Adventure and Abyss, are the modes where you can have some fun with the sharks.
The Adventure Mode is where you can explore the sea to find treasures while defending your life. It has five difficulty levels: easy, normal, hard, expert, extreme.
The Abyss Mode lets you dive as deep as you can. The fishes get harder to deal with as you go deeper. The auto save runs every 400 feets so you won't have to start from the very beginning every time you die.
Your main enemies are sharks, but other sea creatures like piranhas also exist. The piranhas are as eager as the sharks to turn you into lunch.
In an emergency situation, the panic weapon called Shark Zapper can be used to kill all regular enemies. While it is powerful, it is impossible to use it as a main weapon since it has to be charged after each shot. The charge takes a long time.
To charge the weapon, you have to collect points as many and fast as possible. These points can be obtained from killing enemies and bonus creatures, as well as completing bonus rounds.
The third mode in the game is Typing Tutor. It's not a game. It's a training. Beginners should follow this training before playing the game. It consists of 18 lessons. The first lesson shows the most important thing a beginner should know: the basic hand positions for typing.
Typer Shark Deluxe Free Download for Windows
Learning to type fast can be boring. With Typer Shark Deluxe, you can improve your typing skill while having some fun at the same time. The twists and turns in the gameplay are making the game more interesting to play.
And don't forget the Tutor mode which is especially helpful for beginners. In short, Typer Shark Deluxe is a nice learning tool not just for kids but also for adults. You can click the link below to download Typer Shark Deluxe for Windows:
Editor: Clifford
App Info
App Name Typer Shark Deluxe
License Freeware
Publisher PopCap Games
Updated Jun 17, 2023
Version 1.2
High-quality software downloads
Anturis.com is your trusted source for software downloads.