PrimoPDF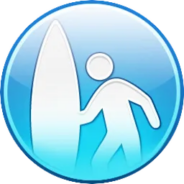 Windows 7, 8, 10, 11

Version:

5.1.0.2

Size:

6.9MB
It is a known fact that PDF is the most reliable file type that can retain the document formatting across devices. Because of this, many people still prefer the PDF format to create documents that are going to be shared. And to create a PDF file, you can rely on PrimoPDF.
The main feature of PrimoPDF is to provide a more practical way for users to create PDF documents. After it is installed, it will stay as a virtual printer in your computer system, ready to use anytime you need it.
Features and Highlights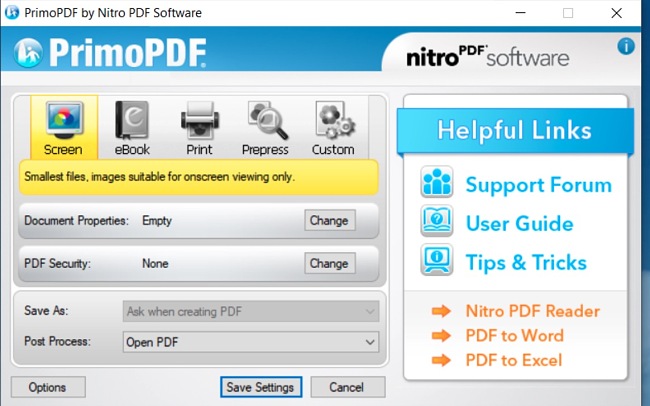 The PrimoPDF installer, which requires at least 30 MB of hard drive space, will offer you several languages. You have to choose one to continue the installation process. On the other hand, you can leave the form blanks if you aren't interested in receiving product update notifications to your email. Just hit the Next button to skip it.
The uninstallation is as easy as its installation so you can quickly remove it when you don't need it anymore.
PrimoPDF acts as a virtual printer that turns documents into PDF files in a matter of a few clicks. In any word processing program that supports print functionality, you can just click the print command which will bring up the printer dialog box where you can select PrimoPDF.
PrimoPDF has five output templates. Each template allows you to create PDF files at a certain quality level.
The Screen template is the most suitable choice for on-screen viewing, the eBook template is optimized for ebook publishing, the Print option creates high resolution PDF files without embedding any font, and the Prepress is the template to go for if you need to create high-quality PDF files.
The last one, the Custom template, lets you decide on your own the best settings for your PDF outputs. You can keep the images as the way they are or choose one of the downsampling methods which include Average, Bicubic, Subsample, and Downsampling Treshold.
Metadata information can be included as well to let everyone knows the details of the author of a PDF document and to be able to search the document by keywords.
The other two metadata information you can add to the document are title and subject.
In the document properties dialog where you add the metadata, the Always Use These Settings option will add the information to the next PDF files automatically if you enable it.
PrimoPDF Free Download for Windows
The best part of PrimoPDF is not its ability to save a document as a PDF file. Rather, its ability to set up different profiles. By switching from one profile to another profile, you can create PDF documents for different needs more quickly as you don't have to configure anything anymore.
Any PDF file can be protected with a password. The security section of PrimoPDF allows you to do this and to limit the access right. For example, you can make it so that the reader can open your PDF file but cannot print it. Or, the reader can print it but only at a lower resolution. You can click the link below to download PrimoPDF for Windows:
Editor: Clifford
App Info
App Name PrimoPDF
License Freeware
Publisher Nitro Software
Updated Jun 20, 2023
Version 5.1.0.2
High-quality software downloads
Anturis.com is your trusted source for software downloads.