Betternet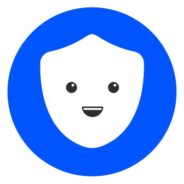 Windows 7, 8, 10, 11

Version:

7.1.1

Size:

622KB
A VPN service offers a number of benefits for its users, but most of them are available at certain prices. If buying one seems too expensive for you, or if you simply do not want to pay anything, you can try Betternet.
Apart from the premium offer, Betternet provides a free plan that you don't even need to register your email address to enjoy it to the fullest. And you can use its VPN connection on both your desktop and mobile devices.
Features and Highlights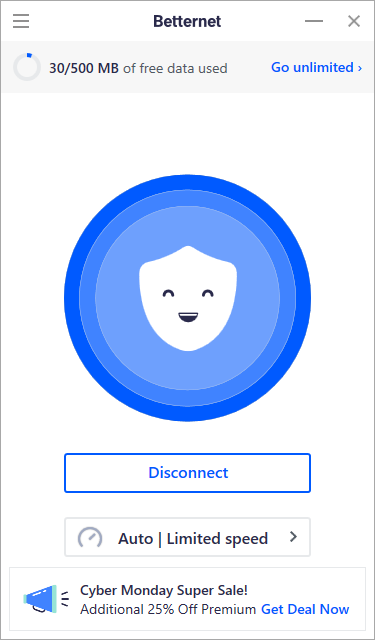 The desktop client of Betternet immediately display an advertisement to urge you to try its premium plan free for 7 days. If you aren't interested, you can skip it by clicking the next button until you find a link that says "Continue with ads and limited features". It is quite hidden and it may change anytime so you should be careful on what you're about to click.
The client provides a list of servers but it's a pain finding the one that works with the free plan. When you click on a server, you will likely to be presented with another advertisement to upgrade to the premium plan. The best thing to do here is to click on the Connect button and let Betternet picks a server for you.
The grey button will turn to a blue one once Betternet establishes a VPN connection. On the upper part of the interface you will see how much of the free data you have used for the day. If you click on the close button, the client will go to the notification area.
A left-click on the icon in the notification area will show the main interface, while a right-click will display two options.
The first option is Menu. Instead of sending you directly to its settings panel, it will show a window where you can choose whether you want to open the settings, contact the support, or find more info about Betternet.
If you open the settings panel, you will see a number of options that you can disable or enable. You can set Betternet to prevent IP leak, use its kill switch, and automatically connect to safe and unsafe Wi-Fi hotspots. You can also choose a protocol between Automatic, Hydra, or IKEv2 (IPSec).
Some sites can be excluded as well if you don't want to visit them using the Betternet connection. After enabling the exclusion setting, you can start adding domains for as many as you like.
The second option that Betternet icon provides when you right-click on it is to exit the application which will also close its VPN connection.
Betternet Free Download for Windows
The free plan is unfortunately not enticing enough. Instead of getting interested in upgrading the plan, some users will likely to get annoyed so much by the advertisements that they refuse to do any upgrade or even leave Betternet to try their luck on other VPN services.
The favorable aspects of Betternet are at least you will get 500 MB for free every single day without signing up to anything and use some of its features such as the kill switch and site exclusion. You can click the link below to download Betternet for Windows:
Editor: Clifford
App Info
App Name Betternet
License Freeware
Publisher Betternet
Updated Jan 10, 2023
Version 7.1.1
High-quality software downloads
Anturis.com is your trusted source for software downloads.