Sandboxie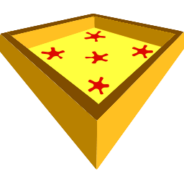 Windows 7, 8, 10, 11

Version:

5.60.0

Size:

2.7MB
If you are unsure of what kind of effect a software will bring to your machine after it is installed, the best thing to do is to steer away from it. But if you have to install it for some reason, Sandboxie is here to save you.
Sandboxie creates an isolated environment that you can use to install and run software without affecting your computer system. Whatever happens in that isolated environment stays there.
Features and Highlights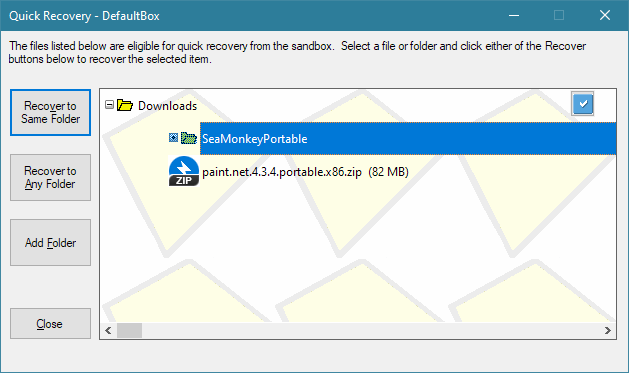 Sandboxie adds "Run Sandboxed" command in the context menu that appears when you right-click on a file or folder. It allows you to easily open files and run applications in the sandbox.
One of the common uses of Sandboxie is to run a web browser, which can be done by right-clicking on its tray icon and clicking on "Run Web Browser" that is located under the "Default Box" menu.
A sandboxed browser can be used just like you use a normal browser. In addition to visiting websites, you can also enable and disable extensions, send emails, browse social media, and download files. While most functions will probably work like usual, there might be some that will not work well or need some tinkering to make them work.
What makes a sandboxed browser different from the normal one is that if you move your mouse cursor over the edges of the sandboxed browser, a yellow border will appear around the edges. And if you look at the browser's window title in the taskbar, you will see that the title is preceded by [#]. Both of these, the yellow border and the sign, are used by Sandboxie to distinguish the sandboxed windows from the standard ones.
Also, if the sandboxed browser gets infected by a malware, the infection will not spread to your system. It will be contained within the sandbox, and you can delete the content of the sandbox manually.
In addition, if you download files, you won't see them in the Downloads folder. The files are isolated in the sandbox. To make them visible in the folder, you'll have to recover the files by right-clicking on the Sandboxie's icon on the tray, select Default Box > Quick Recovery, select the files, and choose one of the Quick Recovery methods.
There are two types of Quick Recovery. The first one is "Recover to Same Folder" which moves the downloaded files to the Downloads folder, while the second one is "Recover to Any Folder" which moves files to any folder of your choice. After the files are moved, they won't be visible anymore in the Quick Recovery box.
Sandboxie Free Download for Windows
Sandboxie provides an additional layer of security to browse the web as well as to install and run other software. You can also take advantage of its alert system that will display a notification when a program is running outside a sandbox. For this functionality to work, you'll have to open the Program Alerts window and add the programs into the list. You can remove the program from the list later in case you change your mind. You can click the link below to download Sandboxie for Windows:
Editor: Clifford
App Info
App Name Sandboxie
License Freeware
Publisher David Xanatos
Updated Jan 10, 2023
Version 5.60.0
Good speed and no viruses!
Anturis does not repack or modify downloads in any way! All files are in original form.