Paint.NET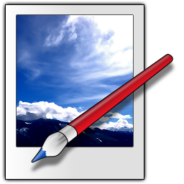 Windows 7, 8, 10, 11

Version:

4.3.12

Size:

61MB
61The best software is not the one with the largest number of features, but the one that can fulfill your need in the most efficient way. As an image editing software, Paint.NET is not as advanced as Photoshop, but it is a much better choice to handle less complex editing.
One of the main reasons is that Paint.NET is much more lightweight and can therefore load much faster than Photoshop, especially for less powerful machines. The features are obviously not as many as that of Photoshop, but they are not as basic as MS Paint either.
Features and Highlights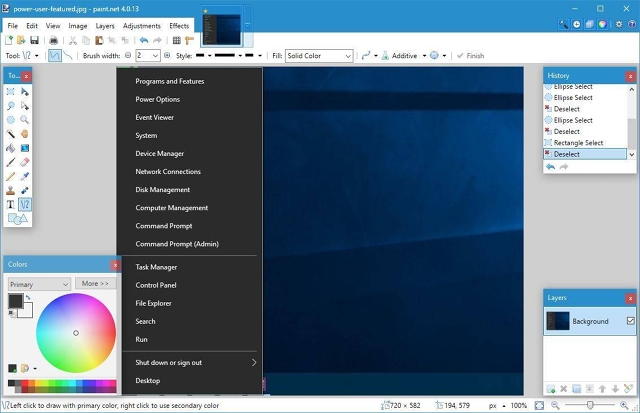 Next time you need to resize an image, try using Paint.NET instead. Whether you resize it by percentage or absolute size, it's your choice. If you change the width or height of an image, the option to maintain aspect ratio helps in keeping the dimensions in proportion so that the image will never look distorted.
There are also several resampling methods to choose from. You can play around with each method to find the one that suits your need or simply choose the best quality setting.
Applying adjustments to a photo is as easy as clicking Auto-Level, an option that automatically enhances your photo. Manual adjustments are possible as well in case you are not satisfied yet with the result that comes from the automatic enhancement.
To adjust a specific area, you need to select it beforehand by using one of the four selection tools. Rectangular Select to mark a rectangular region, Ellipse Select to create a circular selection, Lasso Select to make a freeform selection, and Magic Wand to create a selection based on color.
Magic Wand is especially helpful when you need to select a broad area such as the clear blue sky. By setting a high tolerance level, the selection can capture the whole sky. How far the selection can extend is also determined by the sampling method being used. If the current selection doesn't fully cover the desired region yet, simply drag the click point of the Magic Wand without undoing the selection.
Some handy effects can also be found within Paint.NET to make your photo looks like it has been hand drawn, to turn it into a black and white art, to add more sharpness, to blur an area in your photo, to remove red eyes, and so on.
There are a few blur effects that some can be used to reduce or eliminate the visibility of some areas in your image, while the rest are useful to add an artistic feel to your image.
Download Paint.NET for Windows
In Paint.NET, layers are supported, making it possible to build a nondestructive workflow by separating every edits. The greatest benefit is that you can undo all of the changes made to a specific layer without damaging the other layers.
Each layer can be duplicated, merged with the upper or lower layer, or deleted. 14 blending modes are available to merge layers such as multiply, darken, additive, color burn, reflect, negation, color dodge, screen, glow, xor, lighten, and overlay. You can click the link below to download Paint.NET for Windows:
Editor: Clifford
App Info
App Name Paint.NET
License Freeware
Publisher Rick Brewster
Updated Jan 11, 2023
Version 4.3.12
High-quality software downloads
Anturis.com is your trusted source for software downloads.