Driver Easy
Windows 7, 8, 10, 11

Version:

5.7.3

Size:

5.6MB
Malware is not the only thing that can cause harm to your computer system. When your computer behaves strangely or when crashes happen, oftentimes it is because of the lack of a proper driver. Drivers can even contain vulnerabilities that become entry points for malicious actors. If you come across such drivers in your computer, you should replace or update them as soon as possible.
Updating drivers without using a third-party tool is very possible as Microsoft has already provided the means to do so right from within Windows, but using Driver Easy will free you from some hassle, especially if you use the paid version.
Features and Highlights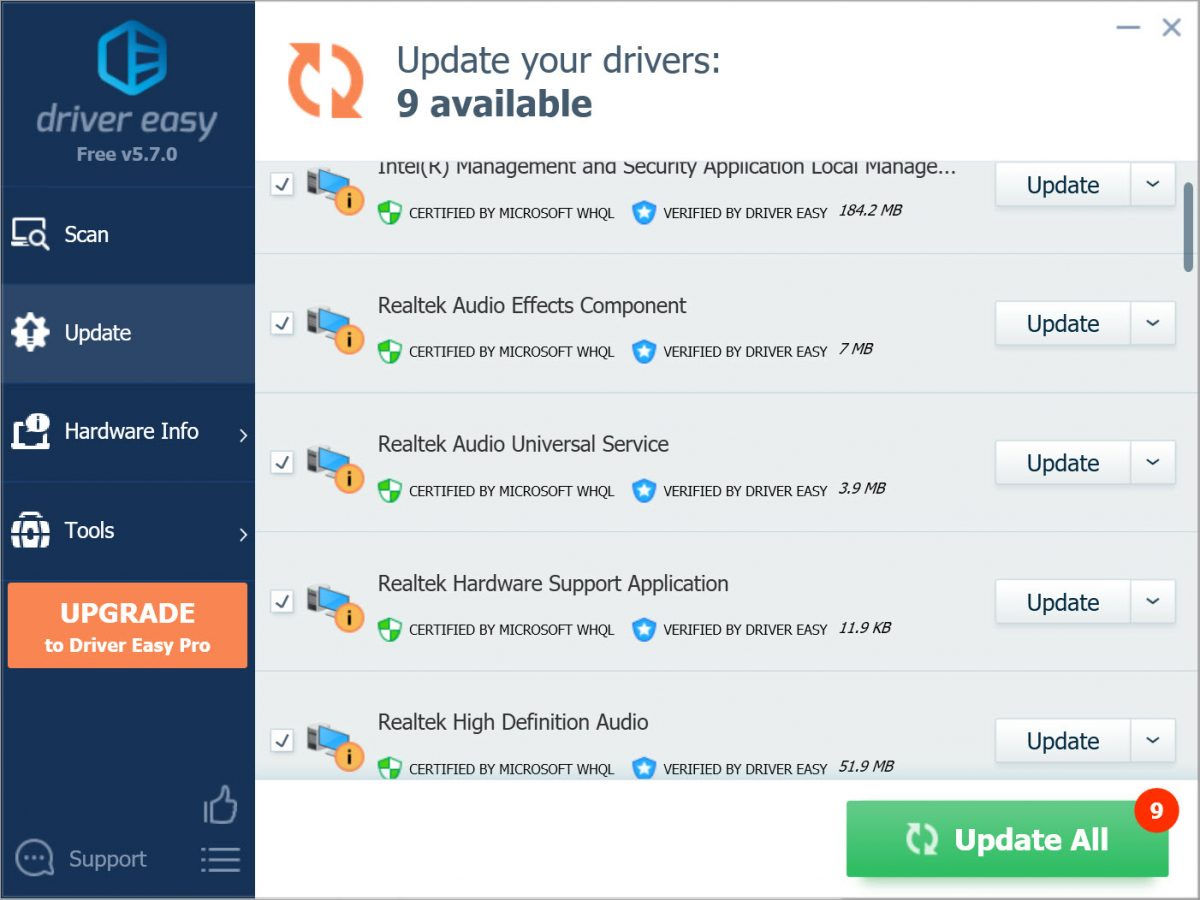 Driver Easy can update drivers for various devices such as graphic cards, printers, monitors, ethernet cards, scanners, modems, and a lot more.
Here is how it works. First of all, hit the Scan Now button to let Driver Easy scans your computer for any outdated driver and other problematic drivers. The scan result will list all of the devices that have some driver issues as soon as the scan is finished.
In one click of a button, you can update all of the drivers. Also, you can choose which drivers to be updated by checking off the ones you need before hitting the Update All button.
Each of the drivers can be updated one by one too. Just click the update button next to the name of the hardware and driver to do so.
If the computer you're using doesn't have an internet connection, you can perform an offline scan with Driver Easy. Then, install Driver Easy in another computer that can access the internet, and use the software to open the offline scan result that will be used to search and download the new drivers.
The new drivers can later be installed in the target computer. If the drivers are exe files, you can simply double-click on them and follow the on-screen instructions. If the drivers are packaged in zip files, you can install them through the Windows's Device Manager.
The roll back functionality, on the other hand, lets you uninstall the new drivers and reinstall the previous ones. It happens sometimes that the latest drivers do not work well with some devices, so it is really important to have this functionality at hand.
To better prepare for any bad situation that might arise after updating drivers, Driver Easy can create a restore point automatically before you update a driver. This functionality is a part of the pro version, though.
Download Driver Easy for Windows
Driver Easy is a convenient solution to fix problematic drivers in computers. All you do is just click a few buttons here and there to update drivers. No need to scour the web yourself to find the correct drivers which can take a while sometimes.
Still, there is one option in Driver Easy that you may want to take a look to decide whether to keep it turned on or not. It is the option to share your hardware information with Easeware, the developer of Driver Easy. You can click the link below to download Driver Easy for Windows:
Editor: Clifford
App Info
App Name Driver Easy
License Shareware
Publisher Easeware Technology Limited
Updated Jan 10, 2023
Version 5.7.3
High-quality software downloads
Anturis.com is your trusted source for software downloads.