Malware Hunter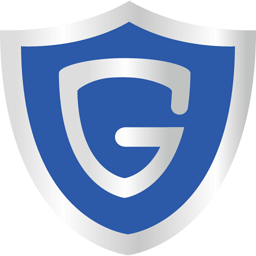 Windows 7, 8, 10, 11

Version:

1.157.0.774

Size:

94MB
The internet gives us a plethora of information and makes long-distance communication much easier. On the other hand, it opens up a wide opportunity for malware to attack computers. More than 5 billion malware attacks are reported in the year of 2021 alone. Therefore, it is very risky to go online without being shielded by an anti malware.
Malware Hunter is mainly designed to hunt down different kinds of malware. If it doesn't detect any malware yet you still suffer from how much sluggish your computer is, you can use its cleaner functionality to gain a better system performance.
Features and Highlights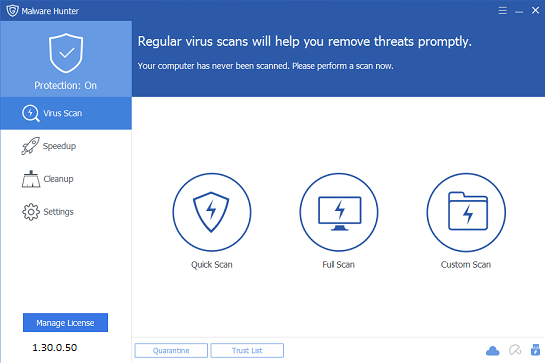 The first of the four menus presented in the dashboard of Malware Hunter is Virus Scan. Click on it and you will be greeted with three scan options that determine how the scan should be carried out.
Select the quick scan option if you want to scan your computer as quick as possible. For a more thorough scan, click on the full scan option instead. It will obviously take a longer time to finish, but it has a higher chance of finding malicious codes hidden deep inside your computer system.
The scan duration can be shortened by optionally ignoring all compressed files or skipping any compressed files with size larger than the limit that you specify.
Another way to reduce the scan time is to make an exclusion list. The main purpose of this list is not to save your time, though, but rather to avoid false alarms. So, if you have some files that you know they are clean yet potentially flagged as malware, you should put them in the list before starting a scan.
The third option that you will get is a custom scan, meaning that you can pick a location to be scanned. For this purpose, Malware Hunter also adds a new entry to the context menu so that you can scan any new file you get immediately with a right click.
An overview of the scan shows up as soon as the scan is finished. It tells you if there is any threat, the number of scanned files, and how long the scan took.
Scan can be carried out based on a schedule. Daily, weekly, or monthly, it's up to your decision. The scope of the scan is determined by the scan method that you select. Additionally, any scheduled scan can be cancelled automatically when it meets certain conditions like the cpu usage is being over 50% or when your laptop is running on battery.
Download Malware Hunter for Windows
Malware can be very sneaky. Sometimes you can immediately see the signs of an infection, sometimes not until you finally realize that something has been silently recording your typing, online visits, emails, and everything else you usually do on your computer.
The role of an anti malware like Malware Hunter is therefore too important to ignore. For a more decent protection, you should combine this software with a good firewall and VirusTotal that can scan files online using different antivirus engines. You can click the link below to download Malware Hunter for Windows:
Editor: Clifford
App Info
App Name Malware Hunter
License Shareware
Publisher GlarySoft
Updated Jan 11, 2023
Version 1.157.0.774
High-quality software downloads
Anturis.com is your trusted source for software downloads.