DroidCam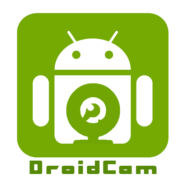 Windows 7, 8, 10, 11

Version:

6.5.2

Size:

15.6MB
Not every home computer comes with a webcam but fortunately there is another way for your computer to record a selfie video without a webcam. Use an Android phone and a software named DroidCam.
All modern phones have cameras. The back cameras on newer phone models has better sensors than some of the cheaper webcams. So why not just use them as wireless webcams for your PC? It is exactly what DroidCam does. It uses these cameras as replacements for webcams.
Features and Highlights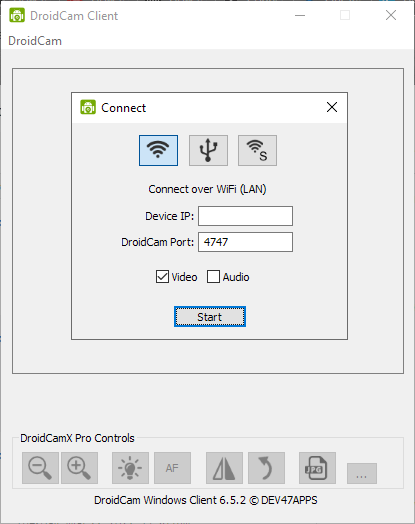 DroidCam supports wireless and wired connections. The wireless mode is easier to set up, but you might have different circumstances that force you to choose the USB connection instead. Just select the one that would be more convenient for you.
If you go with the wireless mode, you have to install the DroidCam app for your phone too. It provides the device's IP required by the Windows client.
If you choose to use a USB cable to connect the phone to a computer, you have to enable the USB debugging option and perhaps manually search and install the phone's driver in case Windows doesn't recognize the phone and fails to find an appropriate driver.
DroidCam is supposed to work with all kinds of chat programs, especially the popular ones, but some may not work well.
There is no time limit. Use DroidCam for as long as you need to. However, all you will get is just a standard definition for the videos. The HD mode that supports 720p and 1080p is available only for those who are willing to pay for the premium version.
Free users also have to put up with some ads. However, as annoying they might be, the ads won't get in the way of using all the free functionalities that DroidCam has.
If you look at DroidCam's interface, you might think that DroidCam doesn't have additional options to tinker with. They are there. It is unknown whether intentionally or not but the settings' placement makes it somewhat difficult to find. There is no menu bar or a proper symbol like a hamburger menu, three dots menu, or gear icon. You will only see the settings after you click "DroidCam" on the top left of the interface.
Aside from the settings menu, there are more options like minimizing DroidCam to the system tray, disable or enable the compact view, and make DroidCam always on top.
DroidCam Free Download for Windows
Using your Android device as a webcam is quick and easy with the help of DroidCam. It saves money too since you don't to have to fork out for a webcam. Moreover, many smartphones have better rear cameras than webcams so this is yet another advantage of using DroidCam.
Using your smartphone as a webcam doesn't affect its main functions. You can still use it to send and receive calls and messages. When you are chatting about something important over the webcam and doesn't want to get interrupted, you can simply block all incoming calls through the phone's settings or buy the pro version to get the auto mute functionality. You can click the link below to download DroidCam for Windows:
Editor: Clifford
App Info
App Name DroidCam
License Freeware
Publisher Dev47Apps
Updated Jun 17, 2023
Version 6.5.2
High-quality software downloads
Anturis.com is your trusted source for software downloads.