Ultrasurf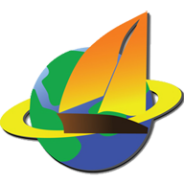 Windows 7, 8, 10, 11

Version:

21.32

Size:

3MB
Ultrasurf allows you to visit censored sites with ease. It hides your IP address so the owners of websites that you visit do not know your real location. There are many other free tools that can do the same, but its simplicity is hard to beat.
However, Ultrasurf is terribly slow. Its protection is not as good as VPNs. If you only need to unblock sites, perhaps it is enough as long as you don't try to access streaming services like Netflix with it. If you need anonymity, you should rely on a VPN instead.
Features and Highlights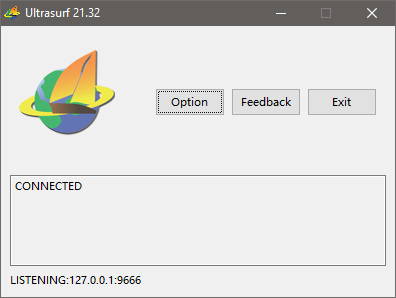 One of the best things about a portable software is that it doesn't require installation, and it is one of the conveniences that Ultrasurf offers. As soon as you finish downloading it, extract the zip file, and double-click on executable file. That's it. The moment you launch it, the program does what it is supposed to do automatically so there is no need to do anything on your part, unless you need to change a few things which can be done by diving into the settings window.
Ultrasurf opens its own web page in your browser by default. If you haven't opened any browser, Ultrasurf will automatically open it. This behavior can be disabled if you feel annoyed.
Ultrasurf's main window is as simple as it gets. It just tells users whether it is connected or still trying to get connected. There are three buttons on it: Option, Feedback, and Exit. Most of the items in the Option let you configure the proxy such as the name, address, type, password, and so on. Don't expect something like a kill switch or split tunneling functionality.
Ultrasurf used to be a very good tool that it was showered by positive reviews everywhere and even praised by Harvard University. However, it becomes much worse over time that many people abandoned it. Aside from the lack of advanced protection mechanism, it also suffers from privacy and security issues. There is even a paper dedicated to address the issues titled Technical Analysis of the Ultrasurf Proxying Software, which is still available for download. If you are in doubt whether Ultrasurf is safe or not, spare some time to read it first to find out. The paper is 28 pages in length.
Ultrasurf Free Download for Windows
Ultrasurf was once a very popular tool to bypass internet censorship, but now its popularity has been dropping a lot. The existence of better alternatives is one of the major reasons. Some users still stick to it, however. Aside from being free, it is also much easier to use than the competing software.
The latest version is more streamlined than the older ones. No more options to disable or enable hotkey. No more automatic cookie and history deletion. No more servers to choose from. Still, even if those options were intact, it would be better to use Tor browser or VPN services instead. Each to their own though, so feel free to use Ultrasurf if you really want to. You can click the link below to download Ultrasurf for Windows:
Editor: Clifford
App Info
App Name Ultrasurf
License Freeware
Publisher UltraReach
Updated Jun 17, 2023
Version 21.32
High-quality software downloads
Anturis.com is your trusted source for software downloads.