Google Books Downloader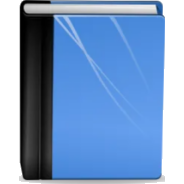 Windows 7, 8, 10, 11

Version:

2.7

Size:

640KB
Google Books is one of Google services that specializes in collecting books which are stored in digital formats. So far the service has stored millions of books. All of them are available for public to read. However, reading books at the Google Books' website is uncomfortable. That's why many users want to download the books from the website and read them offline using other reader tool.
Google Books Downloader, as its name suggests, is a little tool to grab books from Google Books repository. Magazine, fiction, non-fiction, health, computer, programming, you name it. Almost all kinds of books are kept in the website and Google Books Downloader is intended to download those books.
Features and Highlights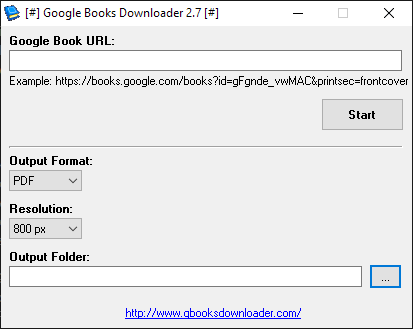 Google Books Downloader has a humble appearance. It is plain and simple. The top side is where the input box is located. You copy the URL of the book that you want to download, paste the URL into the box, and hit Enter or click the Start button to begin downloading the book.
The book will be saved into the desktop by default. You can change this by clicking the three dots button at the lower area of the interface, navigate to the folder you are going to select, and then click the OK button to select the folder as the destination.
Google Books Downloader saves each book in PDF format unless you change it to other format. There are three file formats it supports, which are PDF, JPEG, and PNG. The file format that you select will affect the file size of the downloaded books.
The small-size freeware can save Google books in different resolutions, ranging from 350 px, 410 px, 495 px, 575 px, 685 px, 800px, 910 px, 1042 px, to 1280 px. If the book that you download at certain resolution turns out to be not as good as your expectation, you can repeat the download again with a different resolution.
Google Books Downloader offers only very few features. There is no tool to manage the downloaded books or a reader to open them. You'll have to use separate software to do both, like Calibre to manage digital books and Sumatra PDF Reader to read the PDF books. Both are free and good. You can also try PDF-XChange Viewer if you want a free PDF reader with more features.
Google Books Downloader Free Download for Windows
Downloading books with Google Books Downloader makes them easier to read and manage. With a dedicated PDF reader, you can read the books more comfortably in full screen and use the navigation tools to jump to other pages quickly. It will be more comfortable if you use a PDF reader that can bookmark pages and more useful if it allows you to add comments or sticky notes to each page.
Google Books Downloader only requires around 1.5 MB space to be installed on your PC. Unfortunately, despite how small it is, there is no portable version. You can click the link below to download Google Books Downloader for Windows:
Editor: Clifford
App Info
App Name Google Books Downloader
License Freeware
Publisher Gbooksdownloader
Updated Jun 20, 2023
Version 2.7
High-quality software downloads
Anturis.com is your trusted source for software downloads.