Atom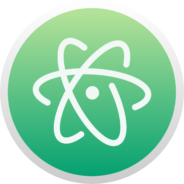 Windows 7, 8, 10, 11

Version:

1.60.0

Size:

190MB
Atom is a highly configurable cross-platform text editor whose popularity is on a par with Sublime, Brackets, TextMate, and Visual Studio Code. It is an open source editor that has a classy interface offering a good user experience and supported by thousands of plugins to bring in more useful functionalities.
As one of the popular text editors, in addition to syntax highlighting, Atom supports autocompletion functionality which makes coding faster and easier. It shows a list of suggestions as you type from which you can select the most suitable one and confirm the selection to insert the suggestion in the editor.
Features and Highlights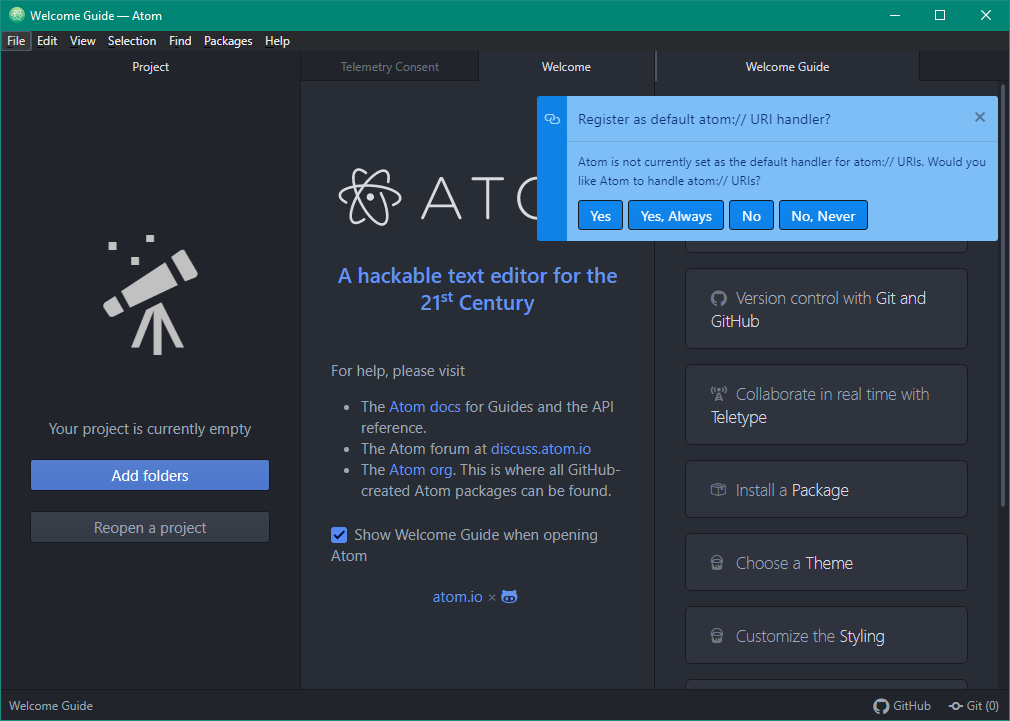 There have been many attempts to make Atom more beautiful than it already is. Go visit the theme page at the official site and you'll see the proof. It has more than 3000 themes already by now. And what's more, if there is something that you don't like from the theme that you install, you can change it.
If none of those themes is as good as your expectation, Atom makes it possible for you to create your own theme by relying on your expertise in CSS coding.
A lot of hard work has been poured into the Atom packages as well. There are over 9000 packages ready for you to install that can turn Atom into a more awesome text editor. All the packages are categorized under Featured, Trending, Newest, and Recently Updated. If you know the name of a package, you can use the search box to find it quickly.
If you launch Atom, you will see a lovely dark themed window divided into a few tabs. The Welcome Guide is the most helpful tab for beginners as it contains several blocks of guides to get to know about Atom. Click on any of the blocks and you'll get a piece of short information on a subject and what to do about it.
One of the guides that you should know about is how you can work with Snippets. It's a time saving feature that will significantly reduce your typing intensity. If you type, lets say "abc", it can be expanded into longer words like "this is a short sentence". You can use the built-in package that contains dozens of snippets and, if necessary, create your own snippets.
Atom Free Download for Windows
Syntax highlighting, snippets, autocompletion, keyboard shortcuts, folding, version control, as well as find and replace, all of these top-notch features are packed in a stylish interface that you can customize to your heart's content. Its ability to split the workspace into multiple panes vertically or horizontally makes it easier for you to work on several files at once.
Atom is definitely an awesome text editor, but you may want to check the Telemetry Consent tab before you start doing anything with it. Atom will send your usage data to the server if you agree to it. The usage data will be used to help the developer decides which areas to be focused on for the next developments. You can click the link below to download Atom for Windows:
Editor: Clifford
App Info
App Name Atom
License Freeware
Publisher Atom
Updated Jan 10, 2023
Version 1.60.0
High-quality software downloads
Anturis.com is your trusted source for software downloads.