TeamSpeak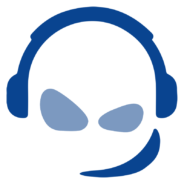 Windows 7, 8, 10, 11

Version:

3.5.6

Size:

86MB
TeamSpeak relies on Voice Over Internet Protocol (VOIP) technology for users to communicate with each other. It is a communication software just like Discord. It is mainly designed for gamers, but nothing will stop you if you want to use it to make conversations about anything else other than gaming.
While the free price tag contributes to the popularity of TeamSpeak, it is mostly because of the features provided. Voice calls, video calls, and text chats are all supported. It has a granular system permission, armed with a top-notch audio quality, and you have the freedom to use one of the available servers or use a private server which runs on a private hardware.
Features and Highlights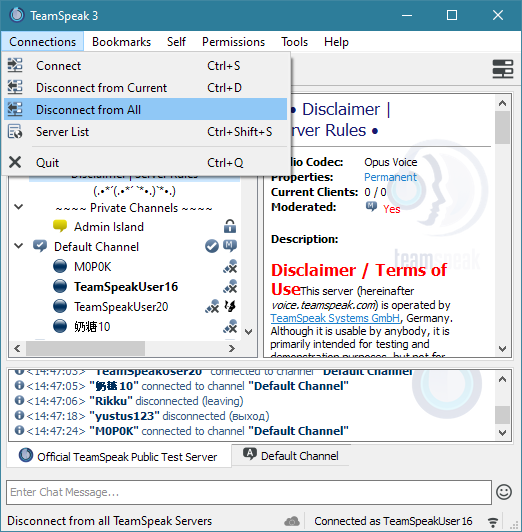 TeamSpeak offers Overwolf at installation. It is a customizable overlay where you can get notifications, manage channels, share your achievements, interact with other players, and access TeamSpeak functionalities without leaving your game. It sounds great, but you can skip it if you aren't interested at all.
TeamSpeak connects you to a server of your choice where you can join channels. The bookmark functionality makes it easier to access your frequently visited channels and to set your most favorite one as the default channel.
Before you start joining a channel, you can test your microphone first to find the best adjustment. You can also set up custom hotkeys to mute and unmute the microphone. While you are at it, you'll probably want to configure hotkeys for your speakers and headphone as well. If you prefer to use mouse instead, you can click the respective buttons located below the menu bar.
The next thing you might want to set up is the whisper function. You get a pop-up notification when someone whispers to you. If it is too distracting, you can disable the pop-up by unselecting "Always show whisper history when receiving a whisper" and "Play notify sound when receiving a whisper."
TeamSpeak also comes with a number of visual elements that you can adjust. Go to Tools > Options > Design. On the right panel, there are three drop-down menus that let you change the theme, style, and icon pack. The Style menu contains four styles, the Icon Pack menu provides three packs, and the Theme menu contains only one skin.
In the Design panel, you may choose to disable animated images and avatars as well, add a customizable transparency effect to the interface, show country flags, enable or disable tooltip on hover, and enable the option to minimize the interface to tray.
TeamSpeak Free Download for Windows
TeamSpeak is an interesting piece of communication software for gamers, but it lacks the very basic thing that perhaps will leave some new users feeling frustrated. That one thing is the missing manual. There is no guide that explains what the whisper function actually does, how to transfer files, how to set up a channel as a default one, and so on. These things may be trivial to veteran users, but a complete newbie can find himself struggling when trying to make sense of certain functions. You can click the link below to download TeamSpeak for Windows:
Editor: Clifford
App Info
App Name TeamSpeak
License Freeware
Publisher Teamspeak Systems
Updated Jan 10, 2023
Version 3.5.6
High-quality software downloads
Anturis.com is your trusted source for software downloads.