Screencast-O-Matic
Windows 7, 8, 10, 11

Version:

2.0

Size:

17MB
Screencast-O-Matic helps communicating your ideas through images and videos, but the features that you will get from this software are determined by how much you're willing to pay.
A cut-down free version is available that adds watermark to the output files. Also, users won't be able to record videos longer than 15 minutes. The paid versions do not have these limitations, but they're all available for purchase under subscription-based plans.
Features and Highlights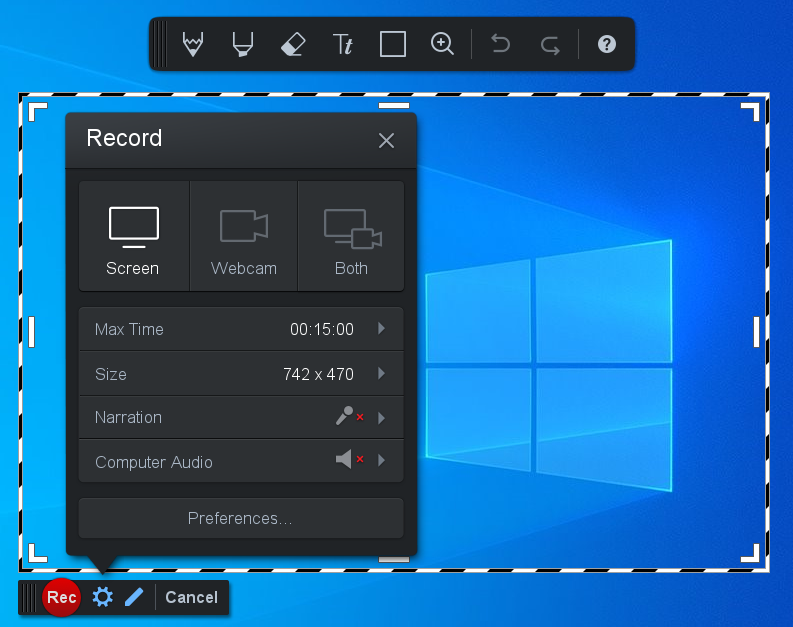 Screencast-O-Matic does a few more than just allowing you to record the screen. With the addition of a webcam, you can create a video with a picture-in-picture effect to better engage with the audiences.
The software records the entire screen or any part of it. The webcam screen is resizable. And you can spice up your video with music.
Even more enticing is the ability to draw while recording. The drawing tools appear above the recording area after you click the pencil button. Clicking one of the tools will turn the video into a still image on which you can add text as well as highlight or zoom a certain part of it.
When you are ready to save your video, Screencast-O-Matic offers to save it locally or upload it to the developer's site, YouTube, or Google Drive. A license upgrade will unlock other upload destinations which include Vimeo and Dropbox.
Screencast-O-Matic offers to edit your video too. However, after clicking the Edit button, what appears next is a message that you have to upgrade to access the editing tools.
With the cut-down version you can only trim the video as well as adding music and caption to the video.
Overall it sounds good enough, but there are annoyances that you really have to know before deciding to use the free version.
In addition to the 15 minutes recording limit and watermarked output, the free version cannot run offline. An internet connection is mandatory. Every time you launch the software, it opens a web page where you have to click "Launch Free Recorder" to start recording the screen.
Furthermore, clicking its tray icon reveals a message that you have to create an account first to be able to use the icon. For some users this is perhaps the biggest annoyance they have to deal with. Why would they have to create an account just for the sake of launching the software from its tray icon?
Those limitations in Screencast-O-Matic have made many users turn their attentions to the alternatives like the great free and open source Open Broadcaster Software (OBS), which is geared for streamers and has a large user base.
Screencast-O-Matic Free Download for Windows
Think twice before you use the cut-down version. The 15 minutes limit and watermark might not be the deal breakers but the fact that it has to open a browser to record the screen, unless you sign up for an account, is quite a hassle.
The most obvious benefit from using the free version of Screencast-O-Matic despite the limitations is that it is indeed easy to use and its graphical interface is nice. You can click the link below to download Screencast-O-Matic for Windows:
Editor: Clifford
App Info
App Name Screencast-O-Matic
License Freeware
Publisher Screencast-O-Matic
Updated Jun 17, 2023
Version 2.0
High-quality software downloads
Anturis.com is your trusted source for software downloads.