Norton Ghost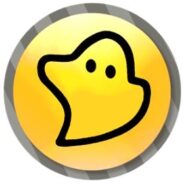 Windows 7, 8, 10, 11

Version:

15.0.1

Size:

120MB
Losing data is a common problem. It happens because of human errors, malware attack, or broken hardware. Even a Windows update, that is supposed to make things better, can cause some files to disappear out of the blue. Norton Ghost is one of the many software that can save your data.
It can back up everything in your computer and keep the backup size as minimum as possible to save space. Whenever you need it, the software will restore the lost files as long as you haven't deleted the backup yet.
Features and Highlights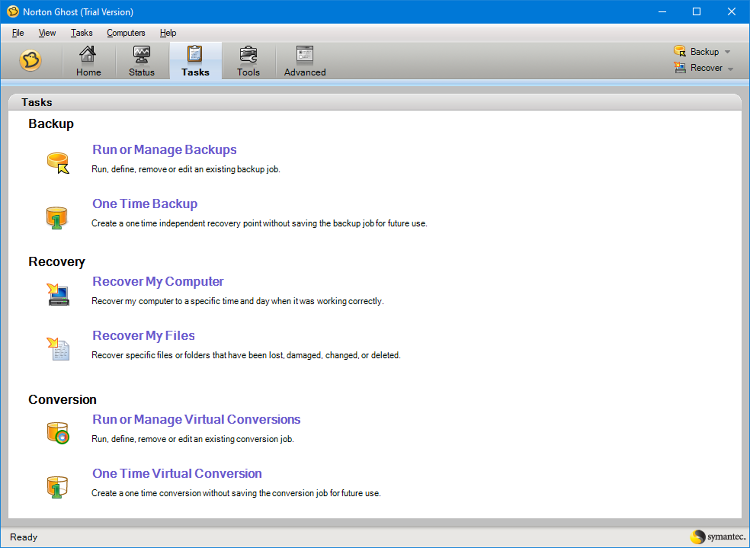 To see which components that Norton Ghost will install on your PC, you should choose Custom Install during the installation. Each component has a short description to let you know what it is about. For a component that you deem unnecessary, you can exclude it from the installation.
To install everything that Norton Ghost offers, you should go with the standard installation. But, the process is quite slow to finish so you may have to be a bit patient.
Norton Ghost is both a file backup and a drive backup. It means that it can back up selected files and folders, back up one or multiple partitions, or backup the entire computer. The backups can be done either manually or automatically based on schedules.
On another note, if you run Norton Ghost without privileges, the software will alert you and ask if you want to add the privileges for full control.
One great advantage of using Norton Ghost as your backup solution is that it can mirror backup to a remote disk. At the time the backup is written to a local disk, the backup is also written to the remote disk. By the time the backup job finishes, you have two backups in two different storages.
And what's more, Norton Ghost supports fallback destination. So if your remote storage somehow becomes unavailable, the backup can be automatically written to the alternative storage. The other available option to deal with the situation is to let Norton Ghost wait until your remote disk becomes available again. When it does, the software will start uploading the backup.
There is still another feature that you will probably find useful too. If you plan to back up data files of a software that cannot be copied when it is still running, you can configure Norton Ghost to close it before running the backup job.
Norton Ghost Free Download for Windows
Backing up files is a hassle, but it is a necessary task to anticipate data loss that can happen anytime. Norton Ghost has a collection of decent features to help you with that task.
It is not the easiest backup software to use, however, and so some users will probably spend a few minutes just to find out how to perform a simple backup with it. But once you're familiar with how it works, Norton Ghost will perhaps the only backup tool you'll ever need. You can click the link below to download Norton Ghost for Windows:
Editor: Clifford
App Info
App Name Norton Ghost
License Freeware
Publisher NortonLifeLock Inc.
Updated Jun 17, 2023
Version 15.0.1
High-quality software downloads
Anturis.com is your trusted source for software downloads.