MoboMarket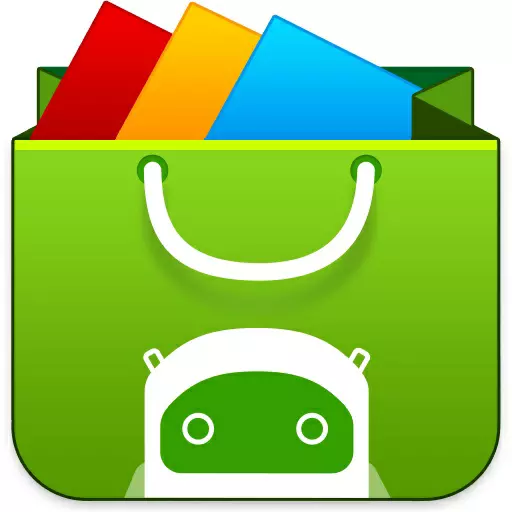 Windows 7, 8, 10, 11

Version:

5.1.9.589

Size:

25MB
MoboMarket is both an Android application store and an Android device manager that you can run on a Windows PC. It allows you to see and manage almost every file you keep in your Android smartphones, which include apps, contacts, music, video, and images.
To manage your Android device by using MoboMarket, it must be connected to your computer first. MoboMarket supports both USB and Wi-Fi connections, but the USB connection is the reliable one of the two.
Features and Highlights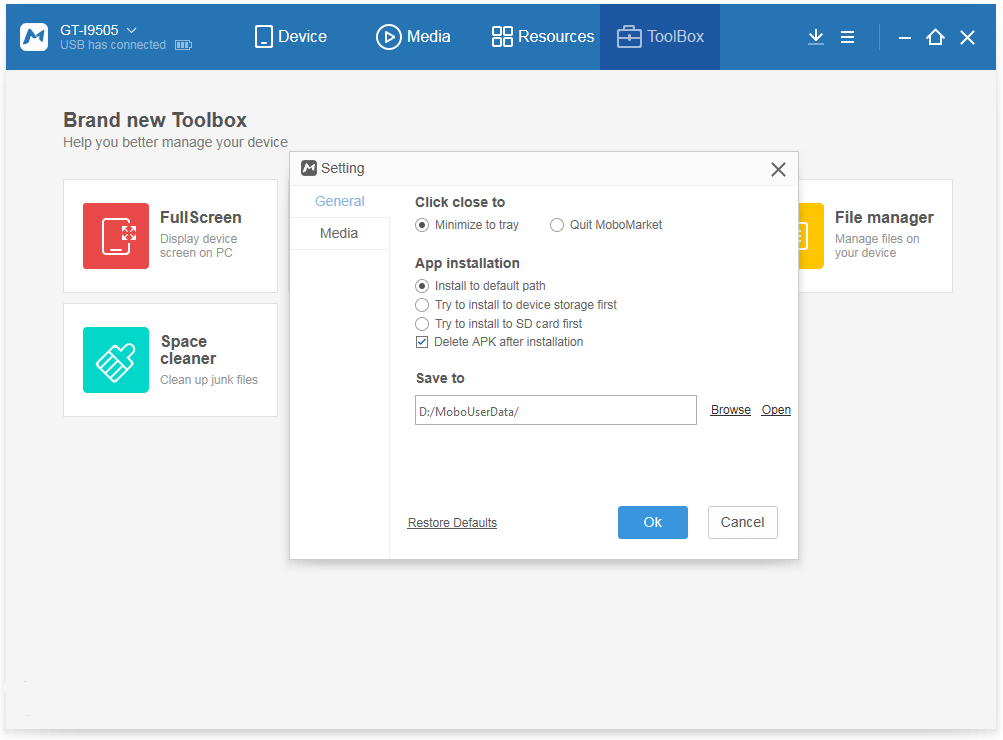 MoboMarket is set to always launch every time your Android device is connected to the PC. If you find this default behavior more annoying than helpful, you can disable it by right-clicking its tray icon and uncheck "Launch MoboMarket when connected"
When MoboMarket detects your device, it cannot access the device's content until you enable the Developer Options in your Android device and then enable the USB debugging. The next step is to wait until MoboMarket preparing your device. When it's all set, you will be able to see the contents of your device in MoboMarket.
MoboMarket has four main menus. The Device menu is where you can see, among other things, the system information that tells you if your device is rooted and which Android version is currently installed on your device.
The hardware information in the Device menu shows information about the screen resolution, serial number, MAC Address, and IMEI of the device.
The other information include the remaining battery percentage, storage capacity, installed apps, system apps, updates, images, music, videos, wallpapers, contacts, and messages.
The installed apps section displays the name, size, and installation location of each application in your device. You can uninstall every single application that you haven't used for a long time and move some applications to other locations.
By removing the unnecessary applications, you'll get more free space that you can use to keep more files as well as download and install any of the applications recommended by MoboMarket. The recommended applications are displayed next to the list of the installed ones.
In the Media menu, MoboMarket shows all the audio files it finds after scanning a number of folders in your computer. You can play the audio files in MoboMarket and transfer any of them to your Android device directly from the interface.
Resources is the section in MoboMarket that lists various Android applications grouped under Popular, Top Rated, Top Downloads, Must Have, New Releases, and other categories.
Toolbox is the fourth menu in MoboMarket that contains handy tools to keep your data safe. There are backup tool to save your important data and restore tool to recover data when you lost it by accident.
MoboMarket Free Download for PC
Managing an Android device on a PC screen which is much larger than the typical smartphone screen is more convenient, not to mention you can also use keyboard and mouse to navigate through the contents.
In addition, MoboMarket provides a marketplace to be an alternative to Google Play Store. There are plenty of applications to choose from. On the downside, some processes related to MoboMarket still run in the background despite the software has been closed. They're using the system resources that otherwise can be allocated for other processes. You can click the link below to download MoboMarket for Windows:
Editor: Clifford
App Info
App Name MoboMarket
License Freeware
Publisher Baidu Inc.
Updated Jun 17, 2023
Version 5.1.9.589
High-quality software downloads
Anturis.com is your trusted source for software downloads.