SopCast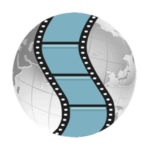 Windows 7, 8, 10, 11

Version:

4.2.0

Size:

5.7MB
SopCast is a streaming software that allows you to broadcast your own channel, listen to radio stations, watch videos broadcast by other users, watch TV shows, enjoy football matches, and more. It leverages the power of peer to peer sharing technology. This means that you don't need to have costly dedicated servers to broadcast your content to the audience. And when you are watching a TV show or other videos, the more users connected to the channel, the better the performance.
SopCast can also be used as an alternative source to find more details about certain news and to watch channels that are blocked in your region for whatever reason. If there is anything you like, you can record it while watching so that you can watch it again in the future.
Features and Highlights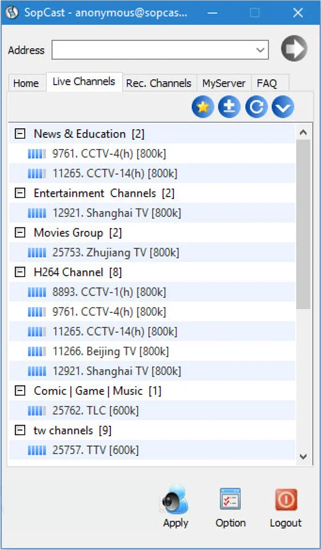 SopCast asks you to login to use it, but you aren't required to create an account. You can simply login as anonymous instead. Those who have accounts, however, are granted more privileges such as the permission to access certain channels. If you are curious, you can create an account for free.
Once you login, you will see a number of tabs in Sopcast's interface. Those tabs are Home, Live Channels, Rec. Channels, MyServer, and FAQ. The channels are organized in groups and any of them can be added into a list of favorites so that you can access them again quickly. The channels can also be sorted based on group, class, channel ID, region, and language.
In addition to exploring the channel groups, you can add channels to get more contents. To do so, you need to enter a SopCast address into the Address box which is located at the upper part of the interface.
SopCast uses Windows Media Player to play videos, but you can change it to a third-party video player if you don't like the Microsoft's product. Some video players that are considered better than Windows Media Player is VLC Media Player, mpv, SMPlayer, and MPC-BE. They are all free and awesome.
SopCast has the ability to record channels, and what's more, the recording can be scheduled. This is useful for situations where it is impossible for you to watch a video at the time it is broadcast. Just make sure that you have enough free space in your hard drive to store the recording output.
There is a dedicated section where you con configure everything necessary to broadcast your channel such as the encapsulation mode, program name, account name, source, and server address.
SopCast Free Download for Windows
There are plenty of sources where you can watch videos and listen to music, but there is nothing wrong with having more choices. SopCast serves as an alternative for everyone who is looking for more entertainment. It also gives you another platform to share your content to the world.
The peer to peer sharing technology means that SopCast users are working together to be able to get the best experience in enjoying the contents. This is the major benefit of using the technology. To join the fun, you can click the link below to download SopCast for Windows:
Editor: Clifford
App Info
App Name SopCast
License Freeware
Publisher SopCast
Updated Jun 17, 2023
Version 4.2.0
High-quality software downloads
Anturis.com is your trusted source for software downloads.