PCUnlocker

Windows 7, 8, 10, 11

Version:

3.8

Size:

30MB
No one wants to experience how it feels to lose an important password, yet it happens too many times already. Sometimes it is purely because of carelessness, some other times it is because of an error or something else that happens out of the blue, like saving your login passwords in a database which becomes corrupted and you have no backup of it.
Regardless of how you lose your password, if it is a password that you use to log on to your computer, PCUnlocker provides a solution that allows you to get access to your computer. It is a bootable tool with support for UEFI Secure Boot. It offers one hundred percent recovery rate for lost Windows password.
Features and Highlights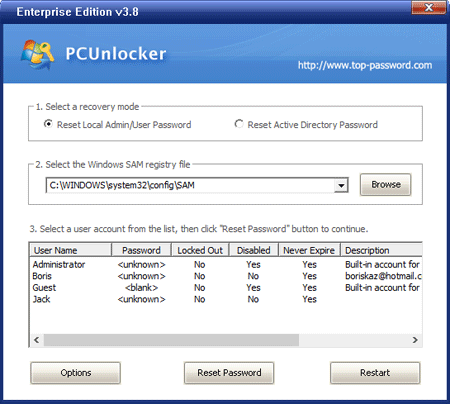 As mentioned above, PCUnlocker is a bootable tool. So, instead of an executable file, it is available as an ISO file which you have to burn onto an external storage media such as DVD or USB drive.
Burning an ISO file is an easy task to do. There are plenty of free utilities out there that can help you with it. One of the most popular ones is Rufus, but note that it is intended to burn ISO to an USB drive. You have to find another program if you plan to burn PCUnlocker's ISO file to a DVD disc.
Using PCUnlocker is essentially the same as using other bootable tools. After turning on the computer, you need to enter the BIOS menu and change the boot priority order so that the computer boots from the USB drive. Then, plug your USB drive into the computer, restart the computer and wait until the main window of PCUnlocker shows up.
The main window consists of four sections. The first one is where you can choose one of the two recovery modes which include Reset Local Admin/User Password and Reset Active Directory Password.
The second section is where you can choose the appropriate file based on the recovery mode that you have selected in the previous step. If you want to reset a user password, then open the SAM registry file.
The third section contains the list of all existing user accounts in Windows. You need to select the one that you want to get access into by clicking on it.
The last section is a group of buttons that execute certain actions according to the corresponding functions. If you're sure you want to reset the password of the selected account, click the Reset Password button. Next, click the Restart button and unplug the USB drive. You should be able to enter Windows without having to provide any password.
PCUnlocker Free Download for Windows
It is easy to get frustrated when you lose your login password, but you do not have to reinstall Windows to solve the issue. PCUnlocker can save you from the hassle of reinstallation. Although Windows reinstallation takes less time than it used to be in the past, it is still faster to solve the lost password problem by using a bootable tool such as PCUnlocker. You can click the link below to download PCUnlocker for Windows:
Editor: Clifford
App Info
App Name PCUnlocker
License Freeware
Publisher Top Password Software Inc
Updated Jun 17, 2023
Version 3.8
High-quality software downloads
Anturis.com is your trusted source for software downloads.