Bluetooth Driver Installer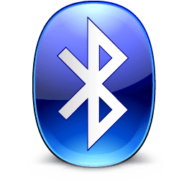 Windows 7, 8, 10, 11

Version:

1.0.1.89

Size:

3.2MB
Two devices can be connected to each other to transfer data back and forth, but there is no need to connect them with a cable. To connect a mouse and a PC, for instance, just use bluetooth to connect them wirelessly. Every modern PC supports bluetooth technology. As long as you use a wireless device, it should be able to be connected to your PC. Unfortunately, sometimes glitches happen and therefore your PC becomes unable to detect a device.
The glitches may be caused by incompatible drivers, outdated drivers, or anything else related to the drivers. It is a problem that Bluetooth Driver Installer is designed to fix. With a file size less than 4 MB for 64-bit Windows and 2 MB for 32-bit Windows, this small utility is easy and quick to install.
Features and Highlights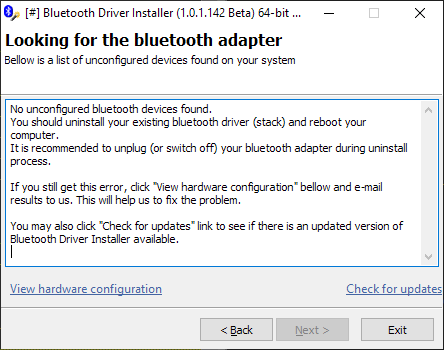 One day you connect a wireless device to your PC only to find out that it doesn't work at all. The device doesn't even appear on your device list no matter how many times you refresh it. This situation can be frustating. It is fortunate that Bluetooth Driver Installer presents an easy solution for everyone. It works by replacing your bluetooth stack with Microsoft's generic drivers.
Every step that you have to take when using Bluetooth Driver Installer is presented in a wizard style. Just read the information carefully in every step before you hit any button on its window.
Bluetooth Driver Installer can also be used when you are in a situation where your device do not have any compatible driver yet. It detects the device and then installs the most suitable driver to make it functional like how it is supposed to be.
While it is easy to use, note that Bluetooth Driver Installer doesn't work with all bluetooth adapters in the market, so sometimes it may fail to fix the bluetooth problem in your PC. However, it is still nice to have at least a potential solution when such an issue occurs out of the blue.
Bluetooth Driver Installer creates a system restore point before it makes any change to your system. With this restore point, you can always revert the system back to its previous state when things go awry. If you're not sure enough that it will save you, Windows lets you create a system restore point anytime you need to as long as there is enough space in your hard drive.
Bluetooth Driver Installer Free Download for Windows
A small piece of freeware that occupies just a measly few megabytes of your hard drive space, yet can help you get rid of the headache caused by the bluetooth connection that fails to function, is a utility that you may want to keep at hand.
Keeping it in the cloud is a good idea too if you don't want your hard drive space used for something that you don't interact with on a regular basis. Just make sure your internet connection is always ready so that you can download it immediately when you need it. You can click the link below to download Bluetooth Driver Installer for Windows:
Editor: Clifford
App Info
App Name Bluetooth Driver Installer
License Freeware
Publisher BluetoothInstaller
Updated Jun 17, 2023
Version 1.0.1.89
High-quality software downloads
Anturis.com is your trusted source for software downloads.