AVG TuneUp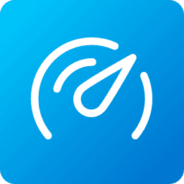 Windows 7, 8, 10, 11

Version:

21.3 Build 3053

Size:

59MB
Every PC becomes slow over time, but regular maintenance can keep it running smoothly. If doing it manually every single time sounds too much of a hassle, you can leave the task to AVG TuneUp.
AVG TuneUp helps you perform regular maintenance. It cleans your computer periodically to prevent useless stuff from wasting the storage space, optimizes background programs to free up the system resources, updates outdated software, and defrags disks.
Features and Highlights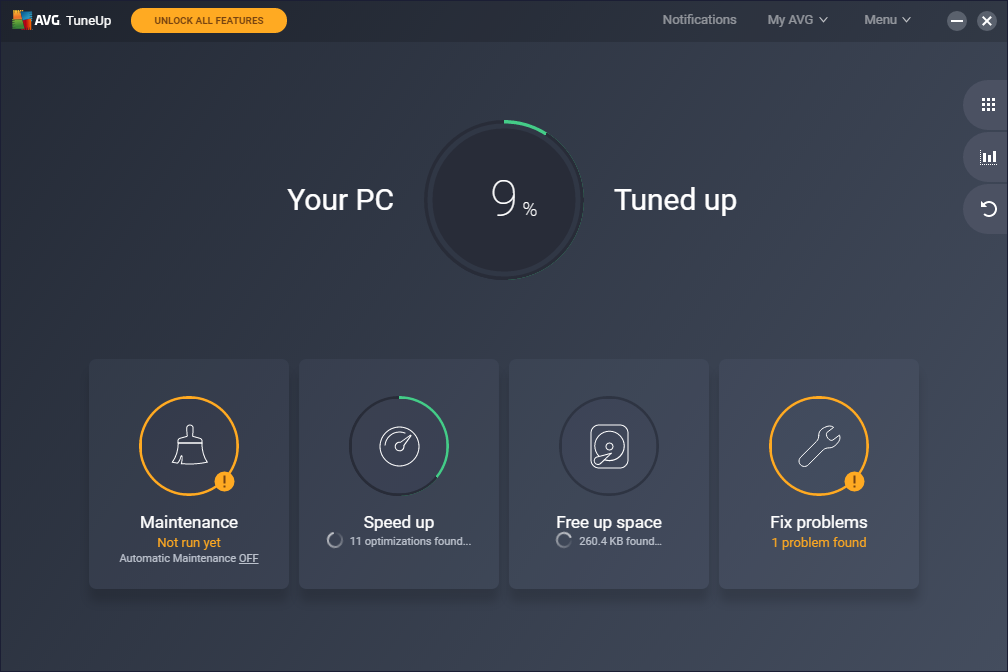 Before you proceed to use AVG TuneUp, note that the software shares your usage data with third parties for analytics. It can be disabled in the General section of the settings panel, but the fact that it is enabled by default may make some users unhappy, especially those who always concerned about privacy.
Regular Maintenance
AVG TuneUp scans your computer to detect problems and shows the report after it is done. The report contains information about which items that AVG TuneUp will delete and how much space it will free up. You can unselect items that you want to keep. Some items like browsing history and cookies are not deleted by default.
Automatic Maintenance
Sometimes you may want to perform a maintenance operation manually, while most of the time you let AVG TuneUp does it automatically.
The automatic cleaning will get rid of broken registry items, broken shortcuts, unnecessary files in the system, browser cache, browser cookies, as well as browsing and download history. You should specify which items to be deleted before enabling the automatic cleaning to prevent it from deleting the necessary ones.
Rescue Center
AVG TuneUp creates a backup before performing the following operations: cleaning broken shortcuts and registry items, optimizing background and startup programs, fixing other problems, and removing programs it deems unnecessary.
All backups are stored in a place called Rescue Center. You can keep them forever or have them deleted automatically after 1 week, 2 weeks, or 1 month.
Software Updater
AVG TuneUp keeps track of software versions and shows them in the list called Outdated Programs. Every outdated program comes with an update button. Above the list there is a button to update all of the software.
Updating software is supposed to be easier with AVG TuneUp but unfortunately it seems to be able to detect some highly popular software only such as Winrar, Mozilla Firefox, 7-Zip, and Adobe Reader.
Sleep Mode
AVG TuneUp analyzes all programs that are running in the background and ranks them based on how much they affect the system. You can choose which ones among them that AVG TuneUp should put to sleep. The more you choose, the more resources will be available for the foreground programs.
AVG TuneUp Free Download for Windows
Software uninstaller is another tool in AVG TuneUp that can help improving your computer performance. However, a dedicated uninstaller like Hibit Uninstaller offers more features completely for free.
The best part about AVG TuneUp is the automatic cleaning functionality. After you enable it, you'll probably never have to empty the recycle bin anymore. Windows temp files, dump files, cache files, and more junk files are also taken care automatically by AVG TuneUp. You can click the link below to download AVG TuneUp for Windows:
Editor: Clifford
App Info
App Name AVG TuneUp
License Freeware
Publisher AVG Technologies
Updated Jan 10, 2023
Version 21.3 Build 3053
High-quality software downloads
Anturis.com is your trusted source for software downloads.