ACDSee Photo Studio
Windows 7, 8, 10, 11

Version:

25.1.1.1946

Size:

350MB
Managing thousands of photos is a time consuming task. You need a proper tool to do it, like ACDSee Photo Studio. It is a comprehensive digital asset management software with a long list of decent features for photographers of all levels.
There are three versions of ACDSee Photo Studio: Home, Professional, and Ultimate. The most expensive version, Ultimate, provides the longest list of features. If you need a RAW editing capability, you should at least use the Professional version. The most basic one is mostly suitable for hobbyist.
Features and Highlights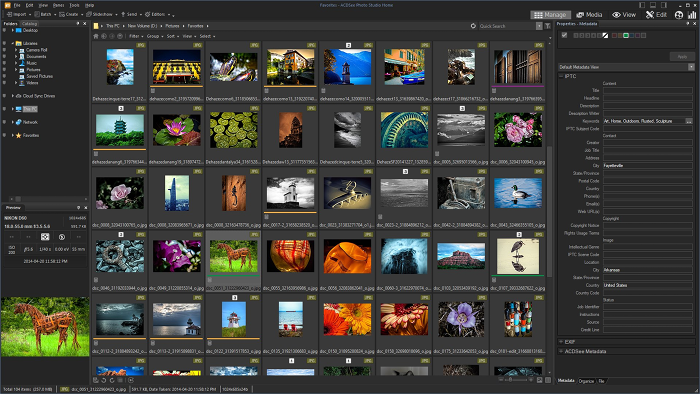 After installation, ACDSee Photo Studio puts an icon on the notification area that serves as a quick launcher. Right-click on it and select "Launch ACDSee Home 2022" or just double-click on it to run the software.
It asks for an internet connection to begin. A warning message will appear if it doesn't detect any connection. If you click the X button, you will be asked if you want to quit. Unfortunately, the Home version doesn't support offline activation. The other ones support it.
One of the main features to manage photos in ACDSee Photo Studio is the People Mode. It uses a face detection and recognition technology powered by a sophisticated machine learning capability. It is a mode dedicated to manage all pictures of people.
There are three views in the mode: Named, Unnamed, and Person.
For images of people that you have assigned a name, you can find them all in the Named view. On the other hand, the Unnamed view gives you a list of unnamed faces. As for the Person view, which is comprised of Assigned Faces and Suggested Faces, is where you can see all faces that belong to the same person.
When dealing with a large number of photos, there is always a chance that duplicates exist somewhere, and that is why ACDSee Photo Studio comes with a duplicate finder. It hunts them down no matter where you put them, and as soon as it finds the duplicates, you are free to choose the next step whether to delete or rename them.
The next feature that a digital asset management tool should have is a backup functionality. To prevent you from losing your precious collection of photos, ACDSee Photo Studio can backup them to cloud storages.
Adding metadata to a collection of photos is also easier with ACDSee Photo Studio. After you finish adding the necessary information to a photo, the software advances to the next image so you can keep adding metadata. It is designed to save your time by removing the need to use the mouse to move to the next image.
ACDSee Photo Studio Free Download for Windows
Even the basic version is fully loaded with cool features, making ACDSee Photo Studio a worthwhile choice to consider if you need a help in organizing your photos.
It supports high ISO, SVG files, and GoPro RAW images. It can resize, rename, crop, and watermark images in batch. The interface is customizable too, allowing you to have the best view layout according to your specific preferences. If you're interested, you can click the link below to download ACDSee Photo Studio for Windows:
Editor: Clifford
App Info
App Name ACDSee Photo Studio
License Freeware
Publisher ACD Systems
Updated Jun 17, 2023
Version 25.1.1.1946
High-quality software downloads
Anturis.com is your trusted source for software downloads.