KeyTweak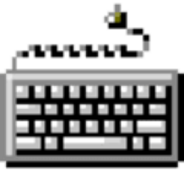 Windows 7, 8, 10, 11

Version:

2.3.0

Size:

280KB
Pressing the wrong key on a keyboard is a common mistake even when you do not type fast. You want to press the left Shift key but end up hitting the Caps Lock. You want to click the Alt key but accidentally clicking the Windows Logo button instead. If this bothers you a lot sometimes, you might want to use KeyTweak to disable some keys on your keyboard.
In addition to being able to disable keys, KeyTweak can remap keys. Never use the Scroll Lock key? With KeyTweak you can remap it to Mute, Print Screen, Volume Up, or any other key. The remapping is done through a graphical user interface so it is much easier than doing it through the registry.
Features and Highlights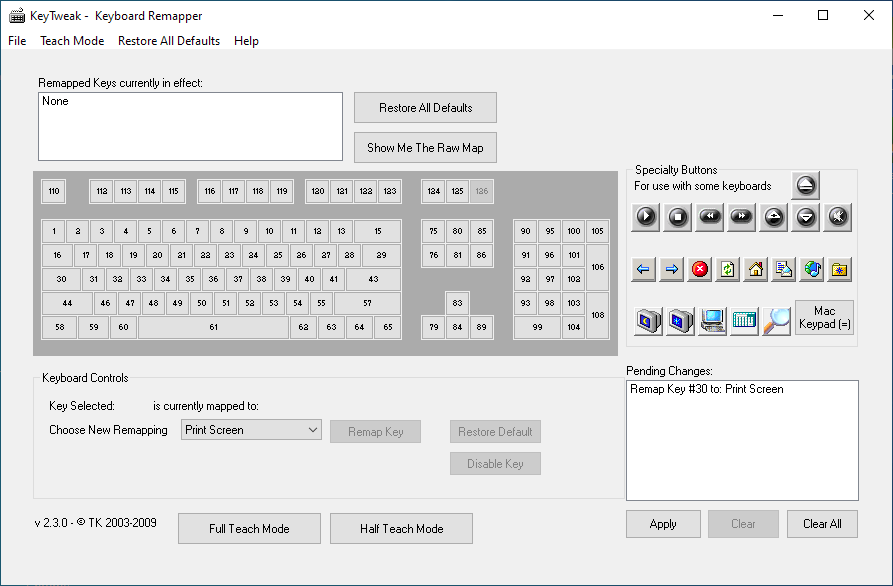 KeyTweak uses a virtual keyboard as a visual cue to help users remapping the keys. Only numbers are assigned to them but each key displays a tooltip when you move the cursor over it. If you point your cursor at 110, for instance, a tooltip shows up with the description of that key, which is ESC.
To remap a key, just click the key on the virtual keyboard. Then, choose which key you want to assign to it.
Every remapping action is added to the list of pending changes. After you remap all the useless keys, you can click the Apply button to get the keys remapped all at once.
You should remap keys only when you have nothing to do, though. It is because a computer restart is required for KeyTweak to be able to apply the changes even if you only remap a single key.
The other limitation, which is a bit less annoying than the restart, is that KeyTweak unable to remap the Pause/Break key. On most laptops, the Fn key cannot be disabled too.
All edits made by KeyTweak are global. You cannot remap keys for specific applications, keyboards, and users. For example, you cannot remap F1 key for Microsoft Word only or Logitech keyboard only. Once you remap a key, the change affects every application, keyboard, and user.
Each key that has been remapped can be restored to its default state, one by one. Resetting all remapped keys to default state is much easier since you just need to click "Restore All Defaults". However, you still have to restart the computer for the changes to be applied.
KeyTweak Free Download for PC
KeyTweak has a few limitations and the biggest one is that every change requires a computer restart. This limitation makes KeyTweak only effective for modifying key functionality that you don't need anymore, perhaps F1 or Scroll Lock. Restarting computer is too much of a hassle if it is just to disable a key temporarily, like disabling the Windows Logo key during a game session.
However, it is still nice to be able to remap keys without having to edit registry keys on your own which can be dangerous. The simplicity is a huge plus too. Additionally, all KeyTweak edits can be saved for future use. You can click the link below to download KeyTweak for Windows:
Editor: Clifford
App Info
App Name KeyTweak
License Freeware
Publisher Travis Krumsick
Updated Jun 20, 2023
Version 2.3.0
High-quality software downloads
Anturis.com is your trusted source for software downloads.