3DP Chip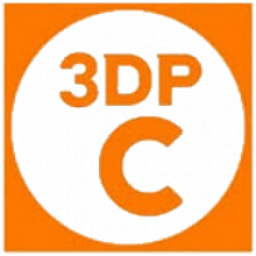 Windows 7, 8, 10, 11

Version:

22.08.0

Size:

4.5MB
A hardware component requires the right driver to be installed on the computer. Otherwise, the operating system won't recognize it and therefore won't be able to use it. For example, a printer won't work on a computer that doesn't have a compatible driver.
Finding out if a driver needs to be updated, unfortunately, isn't easy sometimes. It can be quite a hassle to do it on your own. 3DP Chip saves you from wasting time further on such a chore. Moreover, it shows you where you can download the required drivers for free.
Features and Highlights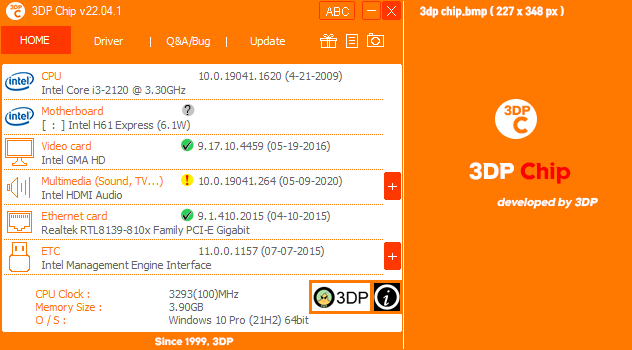 3DP Chip is dominated by orange color throughout its interface. It has a small window and the text has a fairly small font, which makes the text not easy to read. On top of that, the window cannot be enlarged. There is no button to maximize the window and its edges cannot be dragged to stretch the size.
3DP Chip shows information for hardware components that are commonly found in a PC such as CPU, motherboard, video card, sound card, and ethernet card. Further down below in the interface there are some additional information that include the CPU clock, memory size, and operating system.
On a computer with an internet connection, 3DP Chip displays the status of the driver for each device that is listed in the window. The status lets you know if a device's driver needs to be updated or not.
However, 3DP Chip may fail to determine the status of a certain device. In this case, you will have to click the device, which will open the 3DP Chip's web page in your default browser. The page contains a list of drivers for the device that you can download for free. The list includes the latest and older versions.
While it is nice to be able to download those drivers for free, it would have been more comfortable if the download links were provided directly in 3DP Chip's interface.
If you click the Driver tab in the software's interface, you will find the backup and restore tools. In the backup window, you can select which drivers to back up. Put a check mark on each desired driver and then click the Start Backup button to begin the process.
In the restore window, things work a bit different. As soon as you open the window, 3DP Chip launches your default browser to show a web page it deems relevant. You can close this web page and proceed with the recovery process in the restore window.
3DP Chip Free Download for Windows
The 3DP Chip's interface needs a makeover to improve its usability. At least it should be able to be enlarged and its font size should be increased. A tooltip for each icon would be nice too so that users do not have to guess what it is used for. Aside from its usability issues, 3DP Chip is quite handy in solving problems related to drivers, not to mention that it is also small in size and doesn't have to be installed. You can click the link below to download 3DP Chip:
Editor: Clifford
App Info
App Name 3DP Chip
License Freeware
Publisher 3DP
Updated Jun 17, 2023
Version 22.08.0
High-quality software downloads
Anturis.com is your trusted source for software downloads.