Sumatra PDF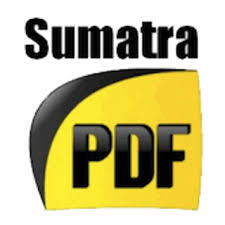 Windows 7, 8, 10, 11

Version:

3.4.6

Size:

7.1MB
Sumatra PDF is an amazing PDF reader that doesn't pack fancy features, but it has one thing that many people are in need of, which is speed. It can open PDF documents so fast that it puts some other well-known PDF readers to shame.
It has basic functionalities to view and annotate PDF files. The annotation was a long awaited feature that finally came into reality in Sumatra PDF 3.3, which took more than 10 years since its first debut in 2006. The developer is quite picky in adding new features to prevent the software from morphing into a bloated one.
Features and Highlights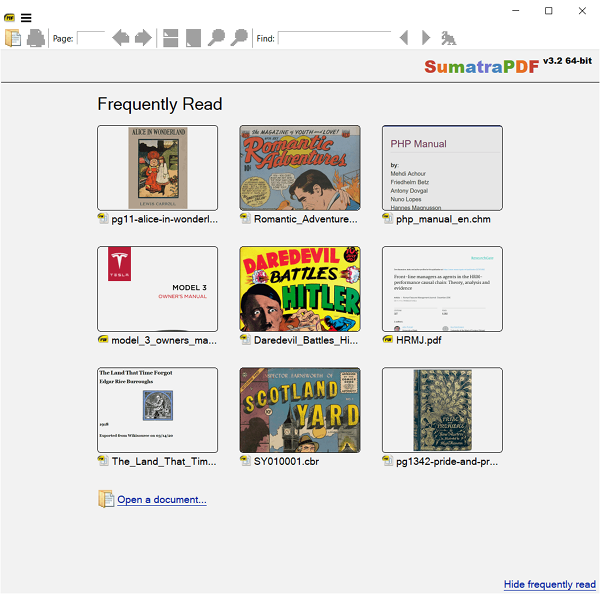 The main focus of Sumatra PDF is to view PDF files, but it can also be used to read other formats such as DjVu, XPS, CBZ, ePub, CHM, Mobi, and CBR files.
The graphical interface is simple which mainly consists of three areas. The title bar, the toolbar, and the document area.
The title bar is used to display the multiple tabs when you open more than one document. It is also where you can find the menu button.
The toolbar, scrollbar, and bookmark can be hidden, which frees up even more space so that you can read more conveniently. There is the full screen mode that eliminates all of the visual elements but the bookmark and document area. If you want to read without any distraction whatsoever, just hit the F5 button to get into the Presentation mode which displays the document against a dark background.
The most recent PDF files that you open are displayed as thumbnails at the front page of Sumatra PDF. This means you can just open Sumatra PDF and click on the thumbnail to read the same file. There is no need to open File Explorer to search the file.
What makes Sumatra PDF even more convenient to use is that it has the capability to remember the page that you read. When you open the same file again, it jumps directly to the page so that you can continue reading from where you left.
Since Sumatra PDF 3.3, you can also add, edit, and remove annotations in PDF files. The most important thing from this annotation capability is that you can highlight text. The lack of this feature in the previous versions was one of the big reasons why some people were still hesitant to completely switch to Sumatra PDF.
Every time you highlight text, a message appears at the toolbar area that reminds you to save the annotations. If you close the document without saving the annotations, you will be asked to save them to the existing PDF file, to a new PDF file, or to discard all of the annotations.
Download Sumatra PDF for Windows
If you want a full-featured PDF solution to read, annotate, share, and collaborate PDF files, Sumatra PDF is not the right answer. But, if you need a quick PDF viewer, Sumatra PDF is the best choice. It has a clean look, supports multiple tabs, and brings in a number of basic annotations to add some meaningful information to PDF files. You can click the link below to download Sumatra PDF for Windows:
Editor: Clifford
App Info
App Name Sumatra PDF
License Freeware
Publisher Sumatra PDF
Updated Jan 11, 2023
Version 3.4.6
High-quality software downloads
Anturis.com is your trusted source for software downloads.