Sweet Home 3D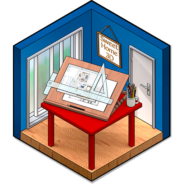 Windows 7, 8, 10, 11

Version:

7.0.2

Size:

77MB
Sweet Home 3D is a free software to create a home plan. It is the tool that you need before you move to a new house or when you need to redesign some of the rooms in your house.
The interface might look intimidating for anyone who have never used it, but the free software is actually easy to use. There are various visual guides to help you designing the interior. Even better, there are countless tutorials on using the software around the internet.
Features and Highlights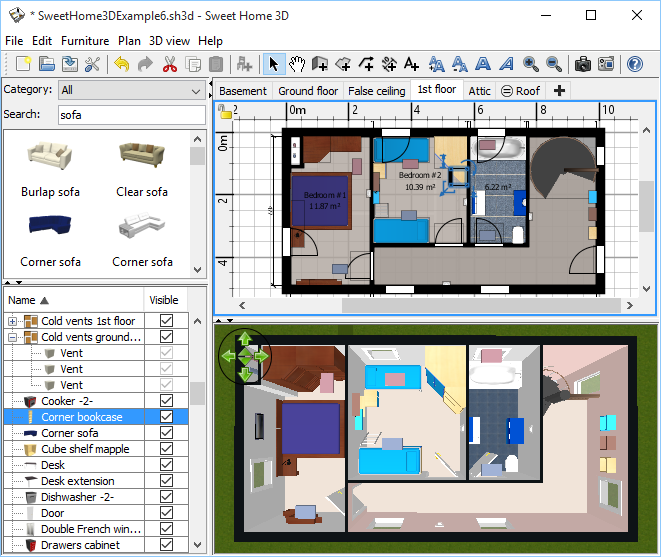 You can start designing with Sweet Home 3D by creating an empty room. After that, add a door, a few windows, and some furnitures such as tables and chairs. As soon as you add objects to the room, or remove any of them from the room, the changes will be displayed instantly in the 3D preview area.
After familiarizing yourself with the user interface, you can create a more complex design, like dividing the room into several partitions that you use for designing a bathroom, a living room, a bedroom, a family room, a garage, a meditation room, and so on. In short, you can create any kind of room with Sweet Home 3D.
There are around 100 free furniture as well as dozens of free textures. The amount of objects provided in the free version of Sweet Home 3D is not as many as in the paid version. However, if you need more objects to be added into your design, you can download them for free.
The project page of Sweet Home 3D on Sourceforge website provides many other free objects that include 3D models, textures, and more. You can also search the internet to get more free objects or create your own objects as many as needed.
To use Sweet Home 3D, your PC must have Java. The installer package for Windows operating system is already bundled with Java, so you don't need to download Java from other places.
You can also start designing by using the demo designs provided by the software. At least nine demo designs are ready for you to use. The user forum on the official website of Sweet Home 3D provides more demo designs that you can grab for free as well.
If you have the blueprint of your house, the blueprint can be imported into Sweet Home 3D so you do not have to design everything from scratch. It is one of the very useful features in the software that can really save a lot of time.
Download Sweet Home 3D for Windows
The free software provides many helpful tools to design your interiors that it takes time to learn everything, but you're out of luck if you want to design exteriors. Aside from having to install Java to run it, this is another one of its drawbacks. Regardless, it is still a decent software to try.
Moreover, even though it requires Java, it is still a lightweight one. So even if you have an old computer, you should be able to use it on that computer. You can click the link below to download Sweet Home 3D for Windows:
Editor: Clifford
App Info
App Name Sweet Home 3D
License Freeware
Publisher eTeks
Updated Jan 11, 2023
Version 7.0.2
High-quality software downloads
Anturis.com is your trusted source for software downloads.