mHotspot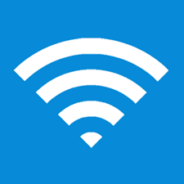 Windows 7, 8, 10, 11

Version:

7.8.8.9

Size:

3.6MB
mHotspot allows an internet connection to be shared with multiple devices by turning your computer into a wifi hotspot. It supports both wired and wireless connection. If your computer is connected to a wired connection and you want to share the connection to portable devices such as an Android tablet or a mobile phone, you can run mHotspot on your computer so that other devices can also enjoy the connection via wifi.
The process of sharing an internet connection by using mHotspot includes naming your hotspot, specifying a password, selecting an active connection, limiting the number of clients, and finally clicking the start button to initiate the sharing immediately. When you need to stop the hotspot, there is a stop button that you can click in the main interface.
Features and Highlights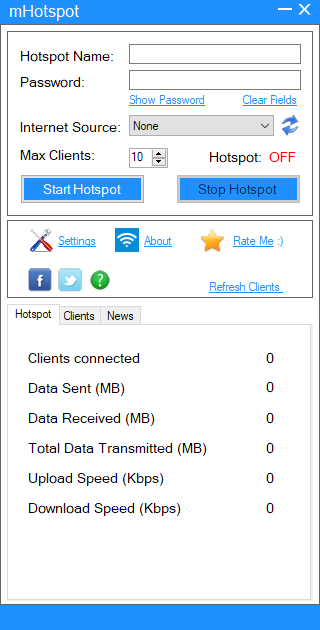 The hotspot that you create by using mHotspot can be connected with up to 10 devices. If the internet speed drops too much, you can try to fix it by reducing the number of connected devices in the main interface of mHotspot.
Every time a new device connects to your hotspot, a notification will pop up on Windows screen. You can then view the details of the connected devices in the Clients tab which include their names, Mac addresses, and IP addresses.
mHotspot displays other details as well such as the download and upload speed in real time along with the total amount of uploaded and downloaded data. It doesn't provide any means to limit the bandwidth usage for each connected device, though.
mHotspot is very easy to set up. All it takes is just a few clicks of buttons and it is ready to run. Since people nowadays are used to interact with digital user interface on daily basis, no one should find it difficult at all to use mHotspot.
The tiny freeware also has another function that you will probably find useful. It can extend your wifi network signal. While it is recommended to access a wifi network from the nearest location, sometimes it is impossible to do it for some reasons. In this case, using mHotspot as a repeater will be helpful, at least to some degree.
Managing the content of your Android devices via your laptop is also possible by using mHotspot together with AirDroid. Here is how you can do it: connect your phone to the hotspot, install AirDroid on your phone, launch the application, copy the generated URL and password, and paste them in your browser.
mHotspot Free Download for Windows
mHotspot can create a hotspot while boosting the wifi signal at the same time. mHotspot supports all kinds of internet connections so it doesn't matter whether you have a wired or wireless connection in your home or office. It is a worth to try solution as long as you don't intend to connect more than 10 devices at once.
If you find it useful, you can set mHotspot to create a hotspot automatically every time you turn on your computer. Enabling the "auto refresh clients" option will also save you from the hassle so that you can focus your concentration to the most important thing to do. You can click the link below to download mHotspot for Windows:
Editor: Clifford
App Info
App Name mHotspot
License Freeware
Publisher mHotspot
Updated Jun 20, 2023
Version 7.8.8.9
High-quality software downloads
Anturis.com is your trusted source for software downloads.