Box Sync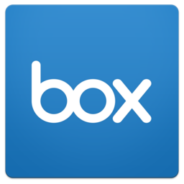 Windows 7, 8, 10, 11

Version:

4.0.8057

Size:

35MB
One of the greatest benefits of storing files in a cloud storage is that you can continue working on your projects even when you're not at home or office. Box is one of those that offer such a service, and Box Sync is its official desktop client.
With Box Sync, files in your computer can be sent to the cloud storage in real time. When you edit any of those files, the changes will be synced to the ones stored in the cloud. This desktop client is available for all, even for users who subscribe to the free plan.
Features and Highlights
Box Sync relies on Edge browser engine. If you don't have it installed or somehow it doesn't work, a message might appear saying that the client is unable to connect to the internet. There is a link at the bottom of that message to help you solve the issue by switching to the old Internet Explorer engine temporarily.
After Box Sync is installed, you can right-click on its icon on the notification area to get pause or resume sync, open Box.com in your default browser, open the Preferences window, or open Box Sync folder in your computer.
In the Preferences window, you will see the sync status whether it is running or paused along with the information that shows when the last time the files are synced.
Box Sync's settings menu only provides two options. The first one is to log out of your account, and the second one is to open Box Sync folder. There is no option to change the folder location.
If you need to open Box Sync folder, there is no need to open its settings menu. It can also be done by simply double-clicking on its tray icon.
In Box Sync folder, you can right-click on any file and copy or email its link to anyone that you want to share the file with. Before you do that, it is possible to lock the file so that other users cannot make changes to it. A lock icon is automatically added to every locked file.
Box Sync's context menu also allows you to view the selected file in the web application.
If you right-click on a folder instead of a file, there is another option that lets you unsync that folder.
Box Sync Free Download for Windows
Box offers 10 GB storage for its free plan. Perhaps it sounds good, but it has a file size limit of 250 MB, which makes it less tempting than a few other cloud storage services.
As for Box Sync, it is not as feature-rich as OneDrive. For example, when you click on OneDrive's icon in the notification area, it shows a pop-up window where the list of the synced files is visible.
If Box Sync's lack of features is not a concern for you, especially considering that Box has other features that make it a highly competitive product, Box is a great cloud storage service that is worth the prices. You can click the link below to download Box Sync for Windows:
Editor: Clifford
App Info
App Name Box Sync
License Freeware
Publisher Box
Updated Jun 17, 2023
Version 4.0.8057
High-quality software downloads
Anturis.com is your trusted source for software downloads.