Canon G2000 Driver
Windows 7 / 8 / 10 / 11

Version:

G2000

Size:

48.1MB
Canon G2000 is designed for budget-conscious consumers who need an affordable multifunction printer. While its price might be a bit higher than expected, you will never have to deal with the highly expensive ink cartridges anymore.
The inkjet printer sports refillable ink tanks with a hybrid ink system. The low ink cost, the capacity of the ink tank, and the monthly duty cycle are the reasons why the printer is suitable for high volume printing.
Features and Highlights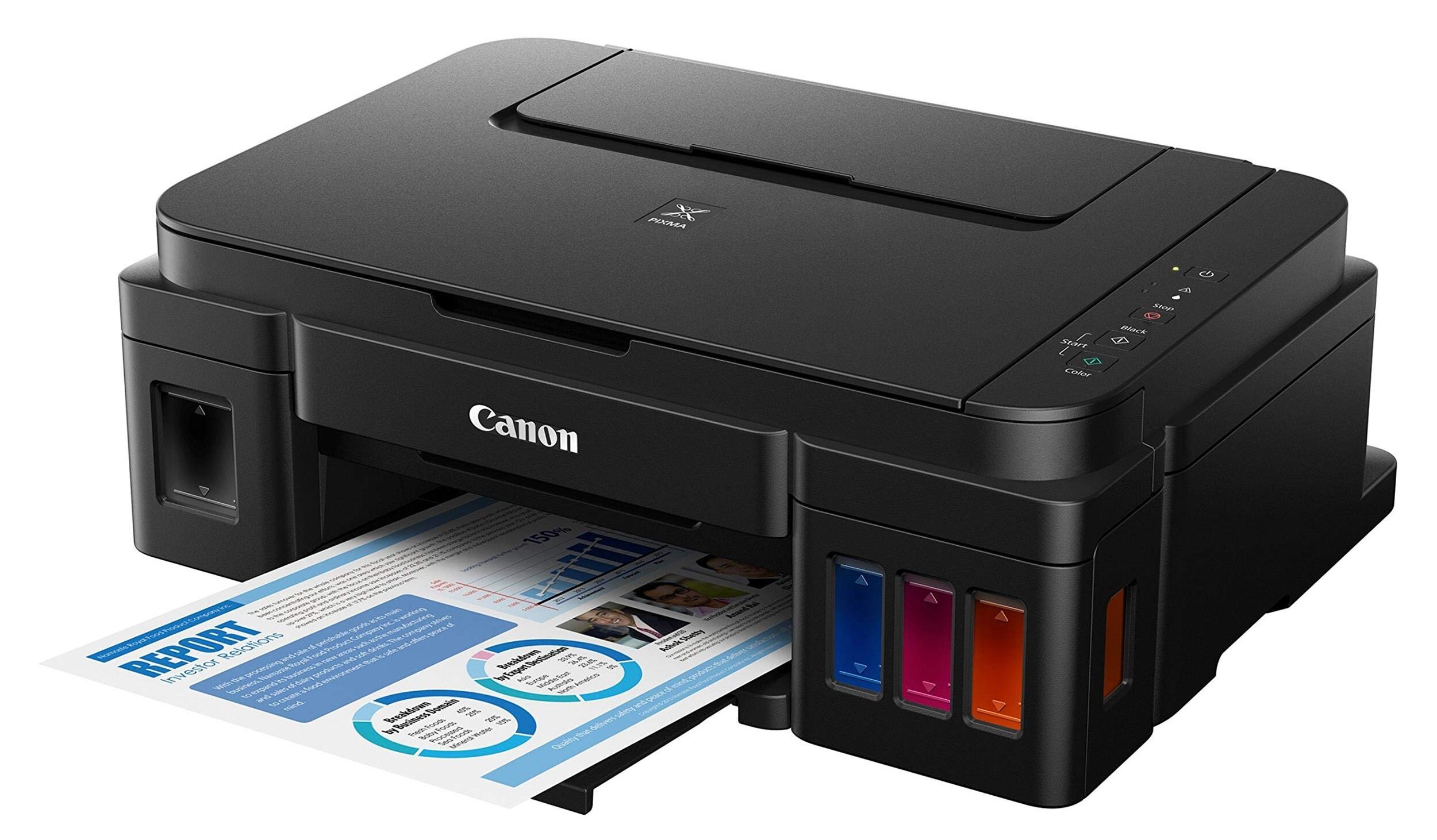 For many users, ink tank printers are much more favorable than cartridge-based printers. The reason is because the ink cost of the former is much lower, so it is an ideal solution for users who print more than just dozens of pages every month.
Canon has released a wide range of ink tank printers, and Canon G2000 is perhaps the all-in-one printer you may like more than the others. Its duty cycle allows you to print thousands of A4 pages every month.
Canon is very proud of its hybrid ink system where pigment and dye-based inks are used in tandem. The company claims that the system is capable of delivering sharp text and vivid colors. This ink system is also used on Canon G2000.
8.8 images per minute for black and white printing is the print speed of the printer. A single 4 x 6 borderless photo takes around 60 seconds to finish. The highest resolution that the printer supports is 4800 dpi x 1200 dpi.
On top of the printer, a flatbed scanner with an indented lip on the lid is ready to use anytime you need it. Pages can be scanned at an interpolated resolution of 19200 dpi x 19200 dpi. The absence of any automatic feeder means that users have to switch the pages multiple times until there is no page left. Users who scan pages frequently are therefore advised to buy a multifunction printer with an automatic feeder.
Users can load up to 100 sheets of paper into the paper tray, which may be sufficient for moderate printing volume. While it is still possible to use the printer in a busy office, it would be less convenient and less productive, unless it is used as a personal printer in the office.
The limited capacity of the paper tray and the lack of automatic feeder, as well as wireless connectivity, make the printer less convenient than it should be. However, despite these shortcomings, many users bought the printer. For those who don't need nothing more than a flatbed scanner, a paper tray that holds a massive amount of sheets, and USB connectivity, Canon G2000 is a good printer to have.
Canon G2000 Driver Free Download
The most interesting feature of Canon G2000 is its ink tank system. Anyone who has concern about the ink cost of printing may get tempted to buy the printer simply because of the feature. The printer may be more pricey than an equivalent cartridge-based printer, but its ink cost is significantly lower. You can click the link below to download Canon G2000 Driver for Windows:
Editor: Clifford
App Info
App Name Canon G2000 Driver
License Freeware
Publisher Canon
Updated Nov 20, 2023
Version G2000
High-quality software downloads
Anturis.com is your trusted source for software downloads.