NetCut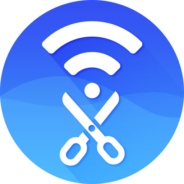 Windows 7, 8, 10, 11

Version:

3.0.199

Size:

5MB
NetCut is a network tool that can analyze a monitor, check a network for suspicious connections, change and clone MAC address, prevent an unknown device from leeching on your bandwidth, and shield your device from ARP spoofing.
NetCut is free, but you can get more features if you buy the pro version. If you use the free version, the browser has to open all the time to keep NetCut running, and you can only adjust the speed for 10 times every 24 hours. The pro version, on the other hand, lets NetCut runs in the background and the speed can be adjusted as many times as you like whenever you need to.
Features and Highlights
The installation runs just like any other software. In addition to the main software, the installer will also install WinPcap on your computer if it doesn't detect any WinPcap. If it does find a WinPcap, the version must match to the version required by NetCut, otherwise you have to uninstall the existing one before proceeding with the installation of the required version.
WinPcap is a requirement for NetCut to be able to run, so you cannot skip its installation unless your computer already has the appropriate version.
When you run NetCut, you will see new processes in the Window's Task Manager. However, unlike most software that provide a standard interface for users to interact with the functionality, NetCut doesn't have one. Instead, it launches your browser and opens a web page in it.
After the web page opens, it scans your network to find any connected device and then shows all the relevant information it has gathered in the page such as the MAC address, IP address, and the time of when the devices are connected to the network. It also lets you know if there is a new device making a connection to the network.
NetCut lets you manage the connected devices. If a device is using too much bandwidth, you can either slow down the connection or cut it down completely. The former feature is, unfortunately, not a free user can use.
Locking down your network is another way to keep Wi-Fi leechers at bay. If you click the lock icon in the web interface of NetCut, a dialog box shows up, giving you options to lock or unlock the network. When the lock is activated, NetCut blocks all new devices that try to connect to your network. Only the existing connections are allowed to use the bandwidth.
NetCut Free Download for Windows
The free NetCut is useful to keep your computer protected from ARP spoofing attacks, cut down any unauthorized connection, and block new devices from connecting to your network. Its free features are indeed limited but still come in handy for those who need them.
Some issues have been addressed at the developer's site, so users who encounter troubles can visit it to find a solution. Its manual needs to be improved, though, so that users who are not familiar with networks can use the software without too much difficulty. You can click the link below to download NetCut for Windows:
Editor: Clifford
App Info
App Name NetCut
License Freeware
Publisher Arcai
Updated Jun 17, 2023
Version 3.0.199
High-quality software downloads
Anturis.com is your trusted source for software downloads.